Tomb of saint Ak Edil Kozhi.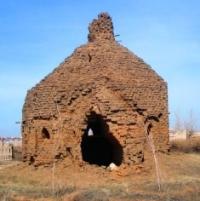 Tours of ancient monuments of Akmola region.
"Help all people, work like a slave,
Unhappy people do good.
If scientists come, meet them with reverence while standing.
There is no help from vile people"
 Hikmet Khoja Ahmed Yassavi. 
Monuments of Akmola region.
Mazar Ak Edil Kozha kazhi is located in the vicinity of the village of Zhumai, Korgalzhyn district, Akmola region. Mazar "Ak Edil Khoja" is a religious and architectural monument of the nineteenth century. Representatives of the genus Kozha, after the prophet Muhammad, are considered descendants of the caliphs.
They actively spread Islam in Central Asia. Massively moved to Kazakh lands, especially after the reign of Aks
One of such enlighteners from the Kozha clan in imperial times when Christianization was carried out was Ak Edil Khoja, who made a huge contribution to the spread of Islam. He also collected zekets (this is the annual taxation of wealthy Muslims), and with the funds raised, he opened madrassas in the villages of the village, in which children from the common people studied.
Thus, he helped teach children literacy. From the same means he helped the needy, people who had been on the road for a long time. Hajj pilgrims helped pay for the trip, and when Ak Edil Khoja died, the grateful people gathered together using the asar method and built a mazar for him.
Until today, travelers passing by, having seen him from afar, stop to read a prayer to the spirit of Ak Edil Khoja. The building, the structure of which resembles a yurt, is built in a semicircle. Inside the mazar, the design forms of the yurt are also observed.
On the territory of Kazakhstan, Ak Edil Khoja was a preacher of Islam.
Authoriaty:
Local historian: Baymukan Boranbai. "Research of historical and cultural monuments of the Akmola region", 2006. G.M.Kamalov. http://srh.kz/content/mazarak-edily-koghi-kaghi/