Theatre "Commonwealth of Actors" Our Theatre in Aktau.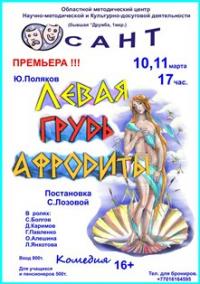 Tours in of Aktau.
"Theater is like a museum: we don't go there, it's nice to know that it is"
Glenda Jackson (b. 1936), English actress.
Sights town of Aktau.
Theatre "Commonwealth of Actors" Our theatre" is known almost every resident of Aktau and other theatergoers of Kazakhstan under the original acronym "SANT". History of the creation of this unique theatre staff is quite dramatic, in 2001 after departing the director of the National Theatre KDK Abay (existing at that time 36 years old) - A.V.Svitneva, it was divided into two separate theatre collectives.
A number of actors of the National Theatre consist amateur theatrical group "Commonwealth actors "Our Theatre" (SANT), which was led by Svetlana Lozova. She worked at the National Theatre from the foundation day, 1963.
"SANTA" opened the first season on 17 February 2001 with premiere "Deep relatives", which was delivered according to works of Victoria Tokareva. The Commonwealth of actors "Our Theatre" received legal status in 2003 as a public foundation.
In 2015, the theatre "SANT" will celebrate its 15th anniversary. Today, "SANT" is not amateur theatre, because actors' play, the director's work have a high professional level. Svetlana Lozova is the permanent director of the "Santa" theatre.
Under her management was born productions such as "The Queen of Spades" by N. Ptushkina that based on drama of the great Russian poet; "Tail of the Fair, or simple fairy tale» - cheerful and playful tale; "Strong feelings" – tragicomedy, a stage of the play by N. Ptushkina; "Let's sing, let's talk"; "Crazy Zhurden" - playful comedy on the same work of Mikhail Bulgakov; "When strangers candlelight" and other wonderful performances that excited audiences.
A perfect collection of actors should be noted: Trushina Ludmila Matveevna, Grishina Galina, Bolgov Sergei Ivanovich, Kirichenko Irina, Kuznetsov Sergei, Moshechkova Elena, Naumenko Larisa, Moshechkov Sergey and other talented actors.
The repertoire of the theatre presents plays in Russian, among which are French, Italian and Russian authors' performances. Theatre has a great success, and audiences love it. Tickets for performances of "SANT" are sold quickly, and Mangystau residents actively discuss the acting and the plot twists on the Internet.
Currently, the theatre "SANT" is working in the youth center "Arman". Head of theatre understands the importance of theatre, which aimed to enlarge theatrical art and increase cultural - leisure of population (especially youth), and all conditions for operation of the theatre.
In addition to theatre's work, which is aimed to raise the cultural level of the population and the introduction to the great art, actors and the administrative staff of the theatre are involved charity, and it conducts classes on acting, dancing and singing.
Authority:
http://culturemap.kz