Tesiktas Grotto petroglyphs.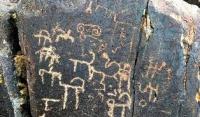 Rock paintings of Central Kazakhstan.
"They grant wisdom to those who desire it, but those who have acquired intelligence have already acquired many benefits. A tree, no matter how powerful and strong its roots may be, can be uprooted in some hour, but it takes years for it to bear fruit"
As-Samarkandi Muhammad ibn Ali.
Trips to petroglyphs of the Karaganda region.
Tesiktas Grotto Location. Tesiktas Grotto is located in the Shet District of the Karaganda Region, 13km north-east of the district capital (Aksu-Ayuly), 5km north-west of Aktobe Village, in the foothills of the Kyzyltau Mountains. Research Status and Documentation.
The Tesiktas Grotto paintings were examined in the 1940's by Magulan A.-H.; in the 1980's, the paintings were recorded by Novozhenov V.-A. (Novozhenov 2002). In 2007, the site was studied by Rogozhinskiy A.-E. Archeological Context.
A kurgan burial site, west of the rock with paintings on the adjacent plain, is dated to the Early Iron Age. Ten kilometers east of the paintings, there is a vertical stelae-shaped rock. Typology and Dating. Two isolated towering granite rocks in the piedmont plain are at some distance from the low hills.
The upper part of one of the rocks has a large open niche with paintings on its high arch. At the centre of the arch, one can see two short-horned oxen and several crosslike signs; nearby are amorphous spots of red ochre –traces of other unpreserved images-, which could only be sketched in the XXth century.
One of the animals was outlined, only part of the second remains. On the second surface of the arch, there is one more noticeable contour figure, possibly an animal depicted less realistically. Beyond the open niche, on the side rocky surfaces, traces of other paintings are nearly completely obliterated and indiscernible.
An opening forms a wide passage in the rock oriented south to north, while the legs of preserved animal images point to the east and their heads face south. Possibly, the orientation of the drawings in relation to cardinal points was less significant, since during the days of low solstice, one can observe rays passing through the opening in the rock lighting the paintings and creating an impressive view.
The age of the Tesiktas paintings has not been determined but researchers attribute them to the Bronze Age (Margulan 2007: 20; Novozhenov 2002).
Authority:
"Rock Art Sites in Kazakhstan".  Alexey E. Rogozhinskiy.
Photos
Alexander Petrov.