Tasutkel petroglyphs.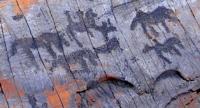 Petroglyphs of Ulytau region.
"The universe contains many planets which make it what it is – a unified system. In addition, our bodies contain many organs, and each part is congruent to a planet in our solar system. The universe we see out our eyes is a mirror of what is within us. This is what God meant by making man in his image. We are all made as a reflection of God and that reflection of him is within us. Furthermore, not only are all religions connected to the same Truth, or Cosmic Heart, but this concept is also mirrored in the pantheons of ancient religions, where each of the many gods simply represented one set of characteristics of the ONE. And in all cases, these many gods symbolized the planets, therefore mimicking the different parts of the universe and the ONE God's many mirrors (He Who is All). The structure behind all polytheistic religions of the past and present is one and the same. They are all built on the same foundation as Nature" 
Suzy Kassem.
Traveling in petroglyphs in the Ulytau mountains.
Tasutkel petroglyphs are located 25 kilometers northwest of the village of Amangeldy, 300 meters south-southeast of the homonymous crossing across the Tamdy River in the Ulytau district of the Karaganda region. In a picturesque place formed by high rocky banks of the river, there is a massive slab of rectangular shape measuring 3.7 x 2.1 meters, completely covered with petroglyphs.
The plane of dark brown color (PT - 4) is located vertically and faces southeast. It is a multi-figure composition of 40 images, in which various animals, people, erotic scenes, cruciform signs, birds, snakes, mountain goats, horses, camels are involved.
Some images are destroyed by numerous modern inscriptions (Novozhenov, 2002, p. 35-36, table 41). Most of the images are a layer of petroglyphs that is quite uniform in style and repertoire, which can be dated to the late Bronze Age.
The manufacturing technique is rough, the tool tracks are uneven. Petroglyphs are covered with a deserted tan (Fri - 3 - 4). Preservation of figures unsatisfactory due to natural stratification rock planes associated with wind erosion, exposure to lichens and traces of renewal.
Authority:
M.V. Bedelbaeva, V.A. Novozhenov, N.V. Novozhenova. "Fine monuments of the Kazakh small hills". Karaganda State University named after academician E.A. Buketova. Saryarka Archaeological Institute. Karaganda. 2015.
Photos
Alexander Petrov.