Sultan Tekesha mausoleum.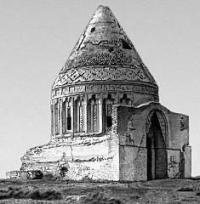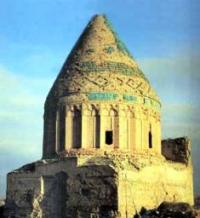 Monuments of ancient Kunya-Urgench.
"On the sample of Kunya-Urgench monuments one can see all variety of methods and décor of Islamic architecture of Central Asia. There are constructions from adobe and burned bricks, plain unicameral dome constructions up-going to ancient chartak and buildings with complicated compositions, sometimes with а long history of development, repair and reconstruction"
Excursions on sights of Kunya-Urgench.
The mausoleum of Anushtigid ruler Tekesh (1172 - 1200) stands near the Fakhr al-Din al-Razi mausoleum and Kutlug Timur minaret, in Kunya Urgench (or Gurganj), the dynastic capital of the Khwarazm Shahs (1077 - 1231).
Also referred to as the Gokgumbaz (blue cupola) or the Sheikh Sherip Baba mausoleum by the local populace, this mausoleum's construction date and patron have not been established. An elaborate specimen of Khorezm pyramidal-roof-atop-brick-cube funerary typology, the structure draws influences from both the Seljuk tomb tower and domed square mausoleum typologies.
The mausoleum consists a double dome, with a near collapsed conical outer dome and arcuated inner dome, and a flanged drum crowning a mud brick cube chamber. The corners of this square chamber are chamfered off to create a partial octagon and assist the volumetric transition to the dome drum.
Alternate brick panels and triangular flanges form the drum. The flat panels accommodate inset decorative terracotta panels. Muqarnas or stalactites fill in the space between adjacent flanges and help the dome spring from the drum's flat-ribbed surface. 
Monumental structure: at the base - square prism on it - an array of decorated ribbed corrugations drum carrying a conical dome. The main facade is highlighted with a stalactite niche deep filling. The dominant texture of the brick.
The drum is decorated with accents of blue tiles, on the completion of its three-blade corrugation remains of epigraphic frieze with a blue glaze. The dome has the calculations of blue bricks: the rhombic grid, "a tree" and a carpet.
Blue tiles arranged in a herringbone pattern decorate the tent-like roof, while a frieze of blue glazed tiles with protruding calligraphy runs around the circular base of the pyramidal roof. A west facing entrance portal features elaborate muqarnas along the iwan's soffit and a solitary double band of blind arches at the springing level of the portal arch.
The square chamber's elevations are plain brick with no borders or inscription panels. The mausoleum is in a poor state of preservation, with water-induced damage to the brickwork and dome.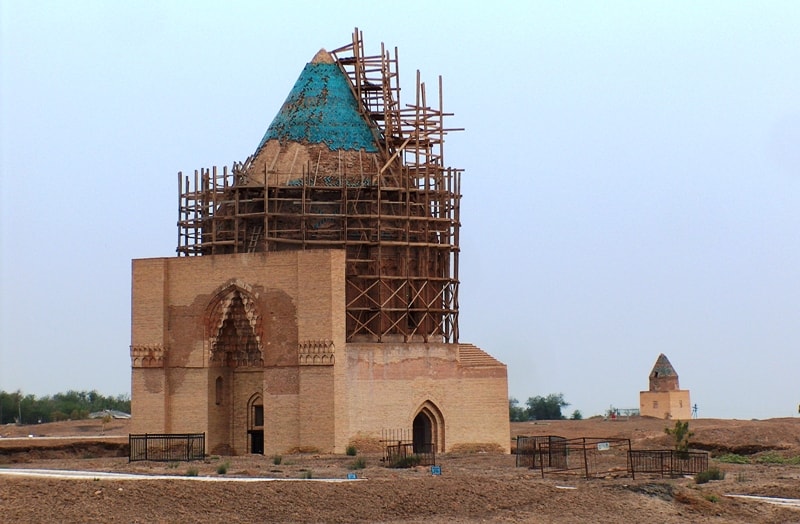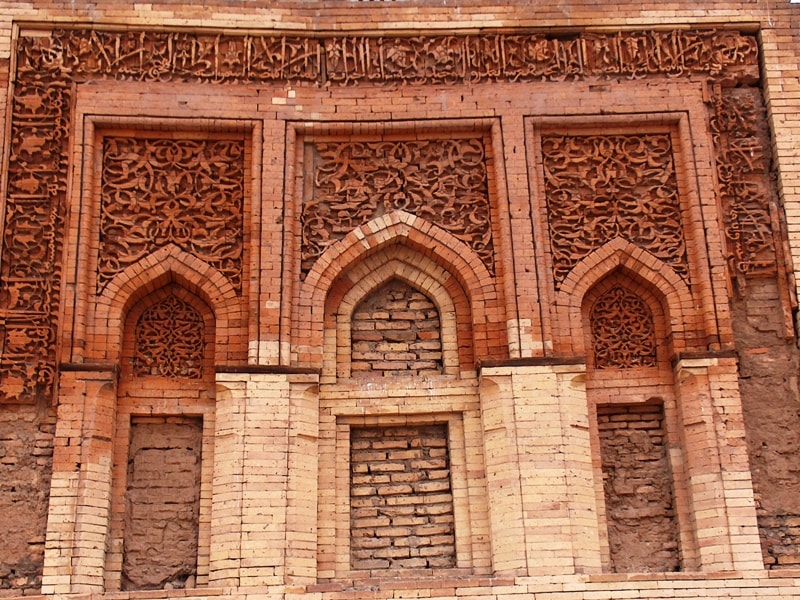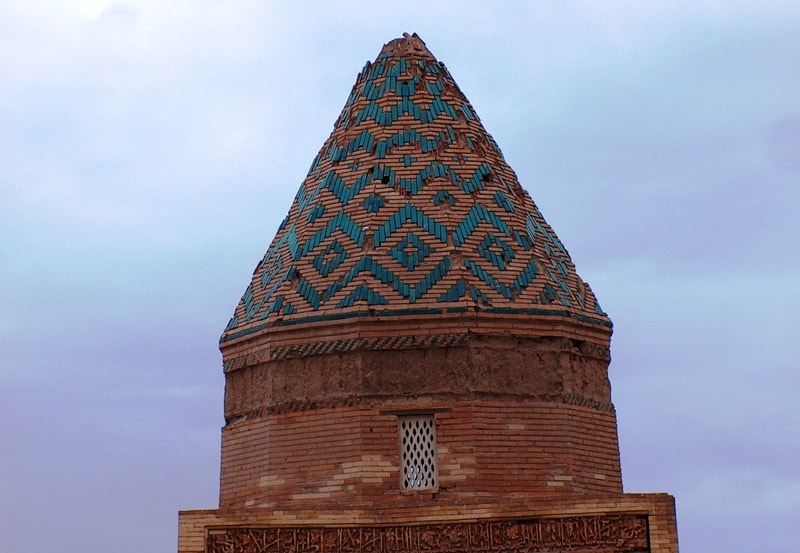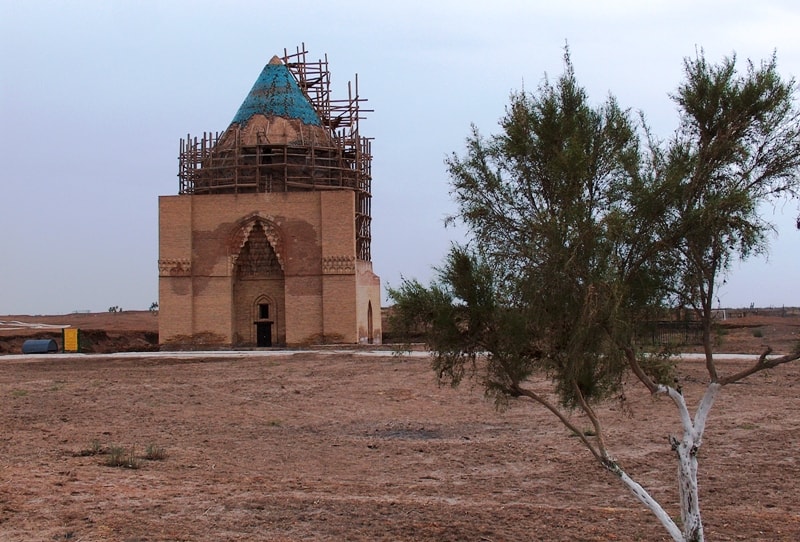 Authority:
 Bernshtam A.N. «History-archeologic sketches Central Tien-Shan and Pamir-Alay». «Religious and spiritual monuments of the Central Asia ». The author of M. Khashimov. Publishing house " Saga ", 2001.Tolstov S.P. « Ancient Khoresm », 1848. Tolstov S.P. « On traces Ancient Khorezm civilizations », М.-L., 1948.
Photos
Alexander Petrov.