Spit of Ada on Capian.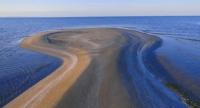 Nature of Mangyshlak.
"Old age begins from the moment when a person loses the opportunity to travel"
Hasdrubal, Carthaginian traveler.
Nature of Western cliff of Ustyurt.
Spit Ada (Kendyrliyskaya) is located in the southwestern part of the Mangyshlak peninsula bordering the Kendirli Bay from the Kazakh Gulf in the Karakiyan region in the southwestern part of the Mangistau region. The Spit Ada stretches for 24.4 kilometers from the mainland of the Mangyshlak Peninsula to the eastern part, the width in the central part of the spit reaches 1.4 kilometers.
It is quite obvious that in ancient times Cape Porsu, located on the mainland of the peninsula, was connected to the eastern part of the spit and thus there was an internal lake with the waters of the Caspian.
Geographic coordinates of Ada Spit: N42 ° 39'32.75 "E52 ° 38'14.24"
Authority and photos:
Alexander Petrov.