Sights of Surkhandarya region.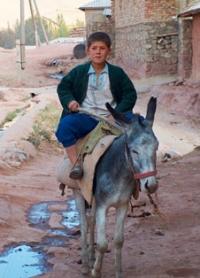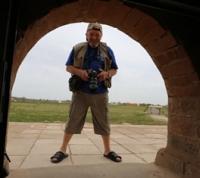 Destinations routes to Termez.
"If you follow the ancient maps written on the stars, no person will ever understand you. So if you could read these maps, would you follow them? And forever be misunderstood? Or would you close your eyes tightly and pretend to be like everyone else?" 
C. JoyBell C.
The Great Silk Road and Termez.
The city of Termez was founded under Czar Nicholai II as a fortification on the southern border of his empire, and is still a stronghold guarding the state border between Uzbekistan and Afghanistan. A fair number amongst our Discovery team used to live in Termez in the 80ies, when the city was still closed to the outer world, a "Sperrzone".
All this has fortunately changed and DISCOVERY invites you on a journey to and around the area under the guidance of our Termez experts. At this southernmost tip of Uzbekistan, temperatures climb up to 50 -C with high humidity.
Termez can turn into a windy city with the "afghanits", a dust storm unique to the area, clouding the skies and filling the air with whirling grains of sand, (experienced by our Editor-in-chief two years ago) - extremely hard condition for strong people.
Our team visited Termez in June, strengthened of course by their previous living experience in the area, but we recommend that you visit in spring, with the flours in bloom 4 or in autumn, during fruit harvest. We had planned all along to feature the Surkhandarya district of Uzbekistan in 2003, since it is an area little explored and off the beaten path, a true discovery.
We are therefore thank full to "Shodlik Tour" company who sponsored our trip, for giving us the opportunity to devote our autumn issue to Termez and the South of Uzbekistan, with locations such as Boysun Tau mountains, Sayrop chinars, Denau.
"Let's go!" was the order of the day on that hot Monday. Tashkent was just waking up, hardly any traffic. Driving south, we passed the city Gulistan after about an hour, followed soon after by Jizzak, where we stopped for tea and grilled sausages in a quaint chai khana.
From there on we headed straight for to mountains, contouring Samarkand. Streets lined with tall poplars and one-storey houses make this a picturesque stretch of the way. We incorporated plenty of stopovers to stretch, wash our hands in cold mountain waters and enjoy the scenery; locals on their way to work, to the fields, children running, donkeys swaying by, loaded with brushwood.
Up and up the road climbs, to Kitab, a pass and the highest elevation en route. The view over the beautiful valley of Kashkadarya is spectacular. We spot a few chai khanas, serving tea, fried meat and kebab. There isn't much else in terms of civilization.
The local specialty is tandir-gusht (meat from tandir, fried in its own juice). Meat is the preferred staple here, delivering energy for these mountain folks who live under harsh conditions. Our car now winds its way down towards Shakhrisabz, where we spend the night.
At 10 a.m. the next morning we're on our way again, destination Boysun, driving south; on what used to be the original silk road leading to India, along which Bhuddism spread to China. But that's an altogether different story.
Boysun is a town nestled in the mountains towards Tadjikistan, at the foot of a high altitude [plane, truly in the heart of Central Asia. In spring the slopes are covered with carpets of flaming red poppies, in time for the Boysun Bahori Folk Festival (see our spring issue 03), drawing the best musicians and dance ensembles from all over Central Asia.
Boysun is on the Unesco list of oral and intangible heritage, one of 19 locations around the world. At the bazaar in the center of Boysun town we are surrounded by friendly natives, readily telling us about the sites to visit in the area, from the hollow tree where once the local hero Aipamish made his home, to Amon Khona, with its caves, healing waters and Mausoleum to the spectacular canyon on the town's outskirts.
We also get directions to villages where the areas fine tyubiteyka skull caps are embroidered. The most delightful little villages they turn out to be and soon enough we're invited to a family home where we make our choice of tyubiteykas, sipping hot tea, nibbling on walnuts and raisins, comfortably perched on big pillows spread out on floor mats, enjoying the view over the steep flanks of the mountains and the rushing stream below.
This is the good life and we take time for a siesta. Soon enough, steaming shurpa soup with fresh vegetables and junks of tender lamb is served to stilt our hunger. We bid our host family good-bye under many "rakhmats" the expression for thank you.
A lovely drive down a valley, along a river, towards to the plains of the Amu Darya, leads us to the famous architectural complex Termez-Ata with the mausoleum of Al Hakimi at Termezi, the medieval scholar and founder of the Hakimi sufi order.
He is the spiritual patron of Termez and his grave is a pilgrim site. Entering Termez through what was formerly known as the Eastern gate, when the city was still surrounded by a fortification wall, we look for the Asaka bank, close to which our accommodation for the night, the Louisa Guest House is situated.
This typical Uzbek residence, built from local bricks and carved wood by Samarkand masters, provides nice rooms, featuring a/c, satellite TV. Welcome tea is served in the courtyard on the tapchan, where we sit in the shade of the wines above us.
4-g Rano Uzakkova, Termez,
Phone: +998/37622 3-00-11, 7-45-75.
After a hearty, delicious breakfast, we visit the newly constructed Termez Museum. Finds from the region's major archaeological sites, the finest in Kushan art and a multitude of artifacts take us through the fascinating history of the area.
Indeed, the entire Surkhandarya region is a museum under the open skies. See also page 28-29. Termez Museum open daily except MO from 9.00am. A healthy discovery is next on our program. To be taken minimum with a grain of salt.
The Speleo-therapeutic medical center "Huja-ikon" is located in the Sherabad region (village Koukhitan, settlement Chorbog, t: 998/3763221-460) not far from the border of Turkmenistan and your tour operator will need to get you a permit with which to pass the frontier guards. We are in a zone north west of Termez, again up in the mountains, where the air is much cooler.
What a wonderful spot this is. At the sanatorium we are met by Dr. Rakhmanov Khalil, who shows us the facilities and then drives us over to the saline lakes the clinic is renowned for. We stand in front of a huge mountain of salt, oscillating in a light pink before the dark gray granite of the rock flanks in the background.
Dr. Khalil opens a door, literally leading into the salt. A tunnel of 22m hight, snow-white walls, supported by wooden columns leads to five natural underground halls. It's all quite spectacular. This is where patients are treated, each room designated to a specific illness.
Bronchitis, asthma, tuberculosis, rheumatism, inflammatory disease. A 2 hour sleep in salt wraps is followed by a 20 minute dip in the underground lake. You float on the surface, seemingly weightless, comparable to a swim in the dead sea.
A cold water shower and we've rinsed all the salt off our skin and our hair. We feel sensational and our skin is soft as a baby's. On our way back, the frontier guards greet us like old friends, and we present them with a few bottles of curing saline water web rought along.
All rejuvenated it's time for dinner and we treat our selves to the best in town, restaurant "ANALAK", located behind the central bazaar on 41b Navoi Street (t: +998/37622 2-74-19) to the left of the post office. The owners, three brothers, have put a lot of effort into the interior, a melange of baroque elements, empire and modern design complete with water fountain and live music.
The menu has been put together with the help of a European Senior Expert who worked with the kitchen team, and you will find European specialties along with local fare. All is wonderfully served, Anwar, Alisher and Akbar are set on providing the highest standards.
"ANALAK" became some sort of a cultural center when last year Uzbek pop-music stars gave a series of concerts right there. "In search of new friends visit the bazaar" is an old saying. We had made friends with Gavhar-apa at the bustling Termez bazaar earlier and she had invited us to her home. T
raditionally in Central Asia, the bazaar is not only where produce and wares are traded but also functions like central intelligence or the local news desk. As expected the quantity and variety of fruits and vegetables far surpassed those of Tashkent bazaars, yet at lower prices. We bought.
Gavhar-apa had set the table with peaches and sweet, juicy watermelon, heavenly hot freshly baked lipyoshka bread, peanuts and the indispensable green tea. Listening to her tales about Termez, about last year's celebration of the city's 2500 year anniversary, about her family and her life we spent a charming evening with her children and grandchildren sitting all around us.
We spent the night at Gavkhar's and slept tight and sound. Visit her and experience true Uzbek lifestyle.
1st alleyway, 2 Petrova Street, Termez,
phone: +998/37622 2-46-72).
To make the most of our day, we get up early. The road leads East towards Denau, a town yet unspoilt by tourism and we are driving past cotton fields and Mulberry trees, whose leaves are the staple food of silk cocoons from which the precious yarn is spun that Uzbekistan's skilled craftsman weave into ikat cloth.
It is Friday, the day of the sheep and cattle market. What a ruckus. Farmers inspecting a potential purchase, arguing, negotiating, lamenting, this is a man's world and we don't spot a single woman. The seller asks for the maximum price and the potential client quotes a minimum.
From there it's back and fro, with praise of all qualities of the goods, jokes and arguments. Strange customs they have in Asia - if you buy at the original sales price, people may cease to respect you, make fun of you or even refuse to do business with you.
Negotiating, haggling is de rigeur. We could watch the hustle and bustle for hours, a Central Asian market in full swing is a fascinating experience, and we have a hard time dragging our editor from the scene. But we have an appointment.
Ceramics are among the oldest applied arts of Uzbekistan. Of the many many workshops all over the country, but a few have remained. Until the 19th century several weill known ceramist dynasties were settled in Denau. Today only one grand master, Usto Zukhurov keeps the tradition alive, thanks to a grant and a project by the Swiss Cooperation Office.
The ceramics of Denau go back to the 8th Century and are distinguished by those of other areas by their patterns, the so called "pyatnanie" ("spotting"), also referred to as ("abr"), ("sky"), a technique whereby the lagan plate is adorned with colorful stripes and spots depicting archaic symbols once used by shamans.
Mostly held in greenish-brown colors in addition to gold and blue, ceramics of Denau have a style of their own.
For more info write to alzuben@eanetwavs.com
For a meal in Denau we recommend restaurant "Mau'jiza" (68-A Mustakillik Street, Denau, phone 998/37641 23-295), located not far from the central market. "Mau'jiza" means "miracle" in Uzbek. This cafe restaurant with its cool court yard and chambres separees, (as common in Central Asia, you get a whole room for yourself and your party) serves tasty regional specialties such as the mentioned tandir-gusht, kebab, plov as well as more European food, together with a good selection of Uzbek wines.
Count approximately 12 hours for the drive from Tashkent to Termez including rest stops. We took it leisurely on the way back home, taking time for water melons near a brook, tea in picturesque places, photo ops (aplenty), after all, we discovery is our motto.
At one point, close to our pick nick spot, a wedding limousine stopped next to us. Groom and bride stepped out for a wedding shot. We speculated.... The groom takes his bride to dwell in the mountains or on the contrary they're mountain folks moving to the city...
Who knows! Central Asia is full of mysteries! As for us we were on our way to Tashkent to work on this autumn issue of DiSCOVERY Central Asia Travel & Leisure.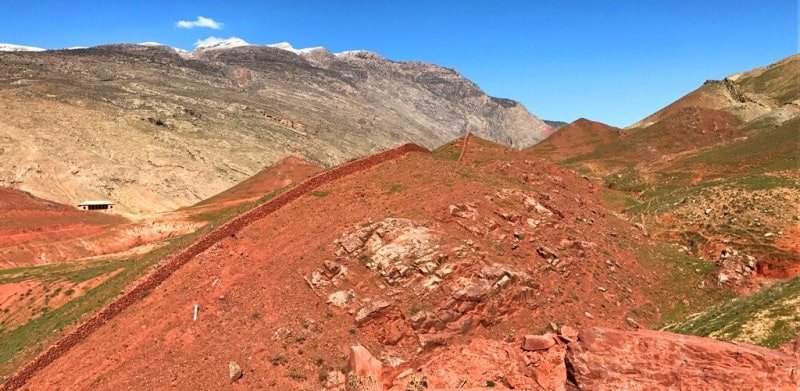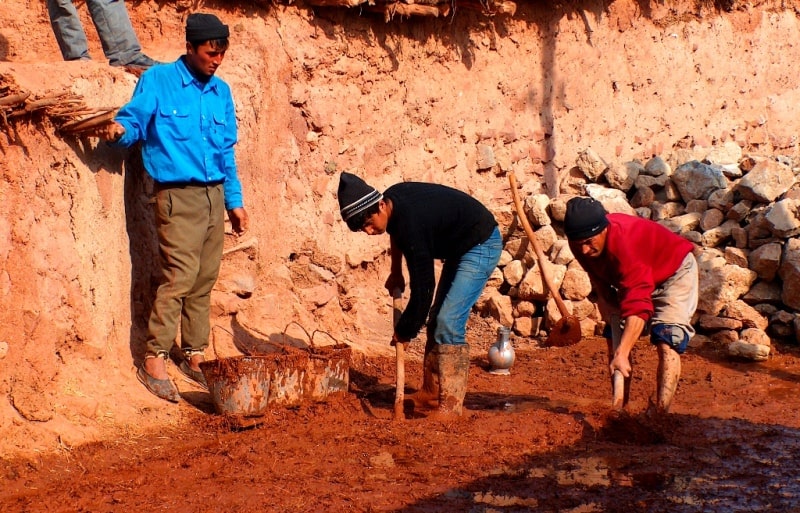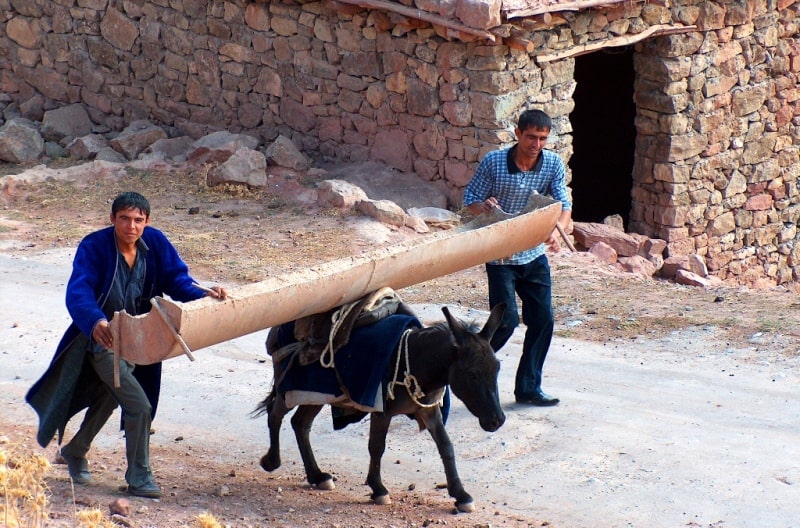 Authority:
http://www.discovery-central-asia.com
Photos
Alexander Petrov.