Shar waterfall in At-Bashi mountains.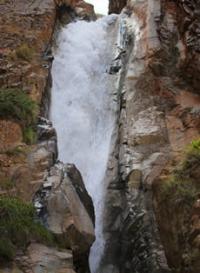 Waterfalls of Kyrgyzstan.
"The nature of our planet is secretive. And how much effort, time, patience is needed to answer her riddles! A discovery has been made. It would seem that everything is clear, but the time of joy is short. Again, many questions arise, and all of them are waiting for resolution.
"Years of searching in Asia.". EM. Murzaev.
Waterfalls in At-Bashi ridge.
Shar Waterfall (translated from Kyrgyz - "falling from the mountain") is located at an altitude of 3516 meters above sea level, in the upper reaches of the Bash-Kaindy River (translated into Kyrgyz - "beginning", "head", Kaindy - "birch"), is located 13.7 kilometers southeast (in a straight line) from the village of Bash-Kaindy on the northern slope of the At-Bashi ridge, in the At-Bashinsky district of the Naryn region.
At 79.4 kilometers from the beginning of the sources of the At-Bashi River, a tributary of the Bash-Kaindy with a length of 20 kilometers flows from the left. The right (eastern) tributary of the Bash-Kaindy originates from the glacier of the same name, 1.6 kilometers long, the area of ​​the glacier is 0.94 square kilometers, the perimeter reaches 5.41 kilometers.
The upper limit of the glacier's feeding is 4156.6 meters above sea level. The tongue of the Bash-Kaindy glacier is located at an altitude of 3764 meters above sea level. There are several small glaciers in the western gorge.
The westernmost glacier is 850 meters long. The total area of ​​glaciers is 0.90, the perimeter of glaciers reaches 9.68. At the bottom of the moraine there is a small lake 40 meters long. he mouth of the Bash-Kaindy River is located just west of the village of the same name at an altitude of 2096 meters above sea level.
Below the moraine of the glacier at a distance of 1.75 kilometers is one of the largest waterfalls - Shar. From the last farm located on the right bank of the river to the rocks that block the gorge - 11.5 kilometers. The footpath goes along the right bank of the Bash-Kaindy river.
On the way to the waterfall, it is necessary to ford the Bash-Kaindy River and small tributaries flowing from the slopes of the gorge several times. The waterfall consists of several cascades, the general view of the waterfall can be seen from the gorge, about a couple of kilometers before it. The noise of the waterfall drowns out almost all sounds.
Shar waterfall geographic coordinates: N41°03'45.00" E76°00'38.23"
Authority and photos by
Alexander Petrov.