Serdar town.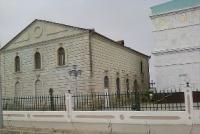 Cities of Turkmenistan.
Serdar (turkmen Serdar - "leader", earlier - Kizyl-Arvat) - the town in Balkan Region of Turkmenistan. Population of 45 000 people (data of 2013). Since the basis at the beginning of the XXth century at construction of the Zakaspiysky railroad the city was called Kizyl-Arvat.
After finding of independence by Turkmenistan in 1991 also the form Gyzylarbat was used. The city received the modern name in honor of Saparmurat Niyazov (Turkmenbashi). Serdar" in translation from Turkmen - "leader".
The city of Kizyl-Arvat was renamed in Serdar in the investigation of the fact that Saparmurat Niyazov, having become the orphan as a result of the Ashgabat earthquake of 1948, was defined in Kizyl-Arvat orphanage where it was brought up several years.
The city is located at the bottom of Kopetdagh, in 175 km to the southeast from the administrative center of Balkan Region - Balkanabad, in 219 km to the northwest from Ashgabat. In the city there is a car-repair plant, carpet factory, the cotton-processing plant, the iodic plant "Bereket", a textile complex.
In the city Serdar of Balkan Region of Turkmenistan are open and the complex of subjects to production and welfare appointment, modern school and kindergarten, recreation center, school of arts, shopping center, a sports complex work with stadium, the pool and platforms for different types of sport.
Four four-storeyed houses in which all conveniences are provided are constructed. The new railway and bus station, the trestle bridge and a collector for removal of torrential waters, treatment sewer facilities, some other engineering objects are constructed.
Authority:
On materials of information department of the State committee of Turkmenistan on tourism and sport.