Sarman-Kosa tower.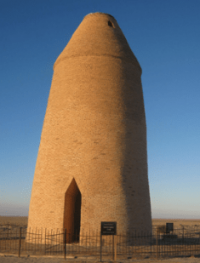 Trip to Kazakhstan.
"Nobody has changed the history of mankind as much as historians"
Shopping tour Kazakhstan.
The Sarman-Kosa tower (Sarman-Khoja, Saryaman) dates back to the 11th century, is located in the Kazaly district of the Kyzylorda region, 3 kilometers to the east and slightly south of the Kaukei village in the southwestern part of the Karaozek tract, 1.6 kilometers from the Kundarya channel.
Date of construction of the Saraman-Kosa tower X - XI centuries. and is one of the earliest examples of tower mausoleums in Kazakhstan. It is a tower structure made of adobe bricks, 24 x 12 x 7 cm in size, lined with fired bricks on clay mortar with a seam thickness of up to 2 cm on the outside.It has the shape of a circle with an outer diameter of 7 meters and a height of 15 meters.
The walls are 1.81 meters thick. The shape of the Saraman-Kosa tower is conical, round in plan, three-tier. Saraman-Kosa was built of adobe bricks, faced with square burnt bricks. The first tier is covered with a hemispherical dome.
There is a rectangular window opening at the level of the first tier, the second tier is also covered with a dome, the third tier has no overlap, with two windows on the north and south sides. The entrance is destroyed.
The ratio of the lower diameter of the base and the total height is within 1/2, and the height of the final part is equal to 1/4 of the height of the structure. In 1982, the Saraman-Kosa Tower was included in the list of historical and cultural monuments of republican significance and taken under state protection.
In 1984, the restoration was carried out.
Geographic coordinates of Sarman-Kos tower: N45 ° 15'23.75 "E61 ° 47'48.44"
Authority and photos:
The vault is a monument of culture, architecture and archeology of the Kyzylorda region.