Saline land Tomaksor.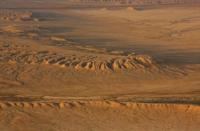 Travel across Mangyshlak.
"Travel and change fills the mind with fresh energy like nothing else."
Depressions of Mangystau.
The Tomaksor saline land is located 12.5 kilometers east of Lake Kashkar-Ata in the Tupkaragan district of the Mangistau region in the western part of the Mangyshlak peninsula. The salt marsh is located 22.2 kilometers northeast of the city of Aktau.
The Tomaksor saline land consists of the southern and western separate parts. The southern part of the salt marsh is vast and long, it stretches from northwest to southeast and northeast to southwest, its length is 9 kilometers.
The western part of the salt marsh has a length of 1.7 kilometers in an almost latitudinal direction.
Geographic coordinates of Tomaksor saline land: N43 ° 48'01.86 E51°21'00,48"
Authority and photos:
Alexander Petrov.