Raiymbek mausoleum.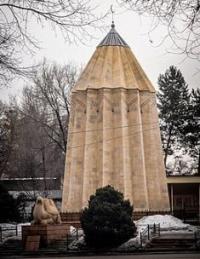 Visit to Almaty.
"In the event of my death, wrap my body in a felt mat, immerse me on a white camel, and where the camel lies, bury me there."
New excursions in Almaty.
The mausoleum of the great Kazakh batyr Raiymbek (Kaz. Raiymbek batyr kesenesі) is located in the city of Almaty along Raimbek street, 83 meters east of Kurilskaya street, opposite the Central cemetery of Almaty.
The authors of the project of the monument are B. Ibrayev, Sh. Otepbaev and S. Agytaev, architect Bek Anuarbekovich Ibraev. The monument was installed in the period from 1992 to 1994, made of granite. During the civil war of 1918 - 1922, Raiymbek's grave was destroyed.
When an attempt was made to demolish a Muslim cemetery in 1960, located on the site of the present mausoleum, all construction equipment failed, which caused the appearance of a legend about the sacred feature of the burial.
Thanks to this circumstance, the sacred grave was preserved. In 1981, a granite stele was installed at the burial place of the batyr. In 1994, on the initiative of the Raiymbek Historical and Ethnographic Society, a majestic mausoleum was erected, next to it was a statue of a lying camel.
The monument has an unusual shape, in the form of a pointed tent with a crescent moon at the top, inside which there is a sarcophagus with the ashes of the great hero. Also on the territory of the mausoleum there is a source with water, and a room for prayers.
In 2005, in honor of the 300th anniversary of Raiymbek Batyr, deputy of the maslikhat of Almaty and general director of the Sana-Oy Invest corporation, Daulet Abenov, at his own expense made and installed a symbolic Koran made of black marble near the mausoleum, where people can worship with the laying on of hands on him.
As the legend says, before his death, Raiymbek Batyr gathered all his comrades-in-arms and close people and said: "In case of my death, wrap my body in a felt mat, immerse me on a white camel, and where the camel lies down, bury me there."
At the place where the camel stopped, a mausoleum was erected with a sculpture of a white camel. Since then, among the people, this place is considered sacred, people come from different parts of Kazakhstan and the whole world, asking for blessings from the mausoleum.
Geographic coordinates of the Raiymbek batyr mausoleum: N43 ° 15'54.49 "E76 ° 54'24.73"
Authority and photos:
https://www.visitalmaty.kz/ru/Read/mavzoley-rayymbeka-batyra