Philharmonic Umurzakov in Kostanay.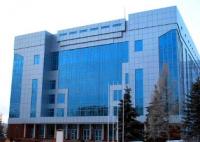 Cultural sights Kostanay.
"This was how it was with travel: one city gives you gifts, another robs you. One gives you the heart's affections, the other destroys your soul. Cities and countries are as alive, as feeling, as fickle and uncertain as people. Their degrees of love and devotion are as varying as with any human relation. Just as one is good, another is bad"
Roman Payne.
Museum & Memorial Tours in Kostanay.
Kostanay State Regional Philharmonic was opened in 1944. Opening of Philharmonic was needed to create national artistic groups, advocacy concert activity and transformation of the city into the center of Kostanay musical culture of the region. 
The first concert was presented on 9 March 1944 in the building of the Drama Theatre. National Artists of the Kazakh SSR M.Koyshibaev, E.Umurzakov, the founder of Chinese symphonic music - composer Xi Xing-Hai, composer A.Baykadamov, and young artists of Kostanay: R.Kasymov, S.Zhakupov, K.Zhumankulova, G.Bekmuhamedova, K.Abenov, N.Esmuhambetova, K.Telemisov, Z.Seydalina, K.Koyshibaeva and others attended to concert.
At concerts and programs of Kostanay Regional Philharmonic always keep going with the time, all stages of the history of country and the region, victory in the Great Patriotic War, Celina and space exploration, hard working life of ordinary people.
During the years of work, Kostanay Regional Philharmonic organized and conducted more than 200 thousand concerts, and more than 30 million audiences were able to enjoy great music on the choirs of Philharmonic.
Philharmonic performances of creative groups were successfully held throughout the Soviet Union from the Baltic to the Far East, from Central Asia to the northern borders. Leading teams of Philharmonic: string quartet, the collective musical lectures, pop ensembles "boys - 69", "Song on the Orbit", "Ak Biday", "Illusion attraction" and other representatives of the art of Kazakhstan toured almost all Soviet republics.
National Artists of the USSR B. Tulegenova, E.Serkebaev, R. Baglanova, P.Lisitsian, B.Shitokolov, A.Dnishev, I. Kobzon, E.Peha and many other groups and soloists performed in the Philharmonic hall.
In the seventies and eighties years, Philharmonic creative teams successfully participated in various festivals and competitions of all-Union, where most of them were conquered a place of honor, the Grand Prix, musical performances were awarded by medals and diplomas.
In the nineties, Kostanay Regional Philharmonic played an important stabilizing role in the preservation of the best amateur teams, because of the optimization process led to close educational institutions of culture and art, and to eliminate network of rural clubs, trade houses and palaces of culture.
For saving the art of creative teams, which have "national" title under the care of the Philharmonic were taken as groups satellites: chorus "Kostanay Dawns", dance ensemble "Kostanay Dawns", the chorus of veterans.
During these years, new Philharmonic teams were created: Karzhauovs' "Sary Arka" family ensemble, ensemble "Slavic song", "Tamasha" satirical theatre, the female vocal quartet "Dream", male vocal quartet "New Boise."
Kostanay Regional Philharmonic named after Elubay Umurzakov had active time of initiation wide listenership of the musical treasures of the national heritage, an excellent example of the domestic and world classical music more than 65 years.
Today, Kostanay Regional Philharmonic after E. Umurzakov is a musical center of Northern Kazakhstan, which concentrate 18 groups with different genres of art. They are highly appreciated not only by Kazakh, but also by Russian audiences, and other musical talent fans from abroad.
Kostanay regional philharmonic is rich of talented and professional performers with high level, which have been confirmed by participation in the most prestigious international competitions.
Authority:
http://culturemap.kz The guidebook on Kostanay and Kostanay of area. The edition of department on tourism and sports Kostanay of area.