Petroglyphs of Kurteke-sai gorge.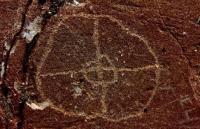 Rock Art Tours Tajikistan.
«Memory is the treasure house of the mind wherein the monuments thereof are kept and preserved»
Thomas Fuller.
Archeology and Petroglyphs Tajikistan.
Kurteke Rock is located in the Murgab District of the Gorno-Badakhshan Autonomous Region, 38km south-west of the district capital city, Murgab. The site is 2km from the Shakhty Grotto on the opposite slope of the Kurteke-Say Gorge at the exit point of the last gorge in the Karauldyn-Dala, at about 4,020m above sea level.
The site was discovered and surveyed by Ranov V.A. in 1964. The first article about Kurteke Rock petroglyphs was published the same year. An abstract of the report "Stone Age Drawings in Pamir" presented at a scientific workshop in Bishkek "Petroglyphs in Central Asia" was published in 2001 (Ranov 2001:128 - 129).
The overhang is adjacent to an isolated Jurassic rock. Traces of painting are on two walls. Apparently, only a small portion of the paintings, made of a grayish-brownish-maroon mineral pigment, was preserved on the northern and eastern walls of the shelter.
Their surface is severely damaged and polluted and they can barely be seen. They are approximately 1.5m from the floor. They include poorly preserved figures of two people with legs astride and arms raised.
Archeological Context Excavations helped identify two cultural horizons.
The first dates to the Late Bronze Age, the second to the Late Neolithic – Eneolithic. The upper horizon includes ceramics typical of the Bronze Age of the Central Asian steppes, with stone tools and bronze arrowheads.
The lower horizon only includes microliths and half-burnt coal.
Authority:
Bobomullo S. Bobomulloev.
Photos by
Surat Toymasov.