Petroglyphs of Arkar.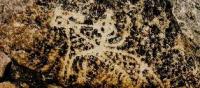 Rock Art Tours in Uzbekistan.
"Ancient aphorisms outlived centuries. Modern aphorisms can barеly survive from book to book" 
Ljupka Cvetanova.
Archeology and Petroglyphs in Uzbekistan.
Petroglyphs Arkar (Arkhar) are located in the upper reaches of the valley in the Navoi region. The complex is located in the upper part of the valley. Image motifs are diverse, with goats, horses, donkeys, oxen, leopards, camels, wolves, dogs, and foxes.
The images are covered with a thick layer of desert varnish. Most date to the Bronze Age. Two panels may date to an earlier period. Quite a few images date to the Saki period. The Arkar Gorge petroglyphs are engraved, pecked, abraded, or incised with a stone or metal tool. Oskin surveyed them in the 1970's.
Authority:
Muhiddin Khujanazarov.
Photos by
Alexander Petrov.