Ortatau necropolis.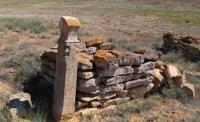 Heritage tourism in Kazakhstan.
"From the sigh of the first on the day of its birth, the soul rushes to the day of disappearance."
Maarri al-Maarri.
Diaspora tourism Kazakhstan.
The Ortatau necropolis is located in the Zheltau mountains 139 kilometers southeast of the regional center - Kulsary, 92 kilometers east and slightly south of the Ushkan ata necropolis, 30.8 kilometers southwest of the village of Diyar, 36 kilometers to the north west of the Donyztau salt marsh tract in the Zhylyosky district in the southeast of the Atyrau region.
The necropolis is located on the edge of the northern part of the Zheltau Cliff, next to a country road, 1.6 kilometers to the south and a little to the west is the Sherligul madrasah and necropolis. The Ortatau necropolis dates from the XIXth - early XXth centuries.
From the grave structures, here are presented fences, koitases, kulpytases, saganatam, stone steles.
Geographic coordinates of the Ortatau necropolis: N46 ° 31'28.04 "E55 ° 42'27.55"
Authority and Photos:
Alexander Petrov.