Nurken Abdirov monument in Karaganda.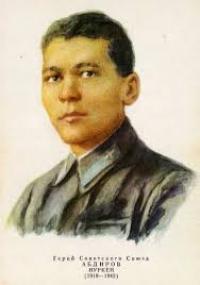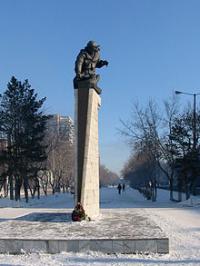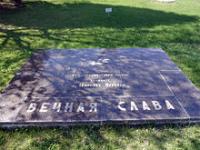 Sculptural places of interest of Karaganda.
"There's something about arriving in new cities, wandering empty streets with no destination. I will never lose the love for the arriving, but I'm born to leave"
Charlotte Eriksson.
Central Asia and Kazakhstan tours.
Monument Nurken Abdirov - a monument to the Soviet pilot to the Hero of Soviet Union Nurken Abdirov (1919 - 1942). The monument is established in 1958 in the city of Karaganda on prospectus Nurken Abdirov at crossing with prospectus Bukhar-Zhyrau.
Cities Komsomol of Karaganda have decided to establish monument Nurken Abdirov on the means. Competition on the best project of a monument has been declared, winners became the Karaganda sculptors J.Gummel, A.Bilyk, architect L.E.Vorobyov.
On a monument the Hero of Soviet Union Nurken Abdirov is represented behind a steering wheel of the plane. The general height of a monument of 9 meters, width of 1,5 meters, height of a figure of 1,7 meters.
The sculpture is cast from bronze, the pedestal is executed from a marble. The monument recreates portrait shape of the Hero of Soviet Union Nurken Abdirov. On January, 26th, 1982 the monument has been included in the list of monuments of history and culture of Kazakhstan of republican value.
In 1987, under numerous requests people from Karaganda, on monument Nurken Abdirov in Karaganda the second memorial board is established: «Together with Nurken Abdirov has made a feat of arrows-radio operators Alexander Komissarov, an award of Domestic war of II degree (posthumously)».
Nurken Abdirov - native Karkaralinsk of area of the Karaganda area, was born in 1919 Biography Nurken Abdirov simple, as well as at many representatives of its generation. Studied, has entered numbers VLKSM in a to Karaganda.
Has on the job ended rates DOSAAF and became the pilot. Within Great Domestic war heroically battled for the Native land. On December, 19th, 1942 has a heroic feat under Stalingrad.
When its plane has been lined by an enemy shell, he has directed the plane captured by a flame on the mechanized columns of the enemy. For the shown courage and heroism ranks of the Hero of Soviet Union have been posthumously awarded.
It is buried Nurken Abdirov on farm Skates of village Bokov of the Rostov province. Senior brother Nurken Sadarbek was lost at the front in 1944.
Authorship:
http://www.madenimura.kz