Necropolis of Shalgay.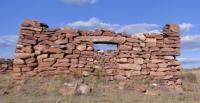 Romantic getaway in Kazakhstan.
"...it seemed a part of her life, to step from the ancient to the modern, back and forth. She felt rather sorry for those who knew only one and not the other. It was better, she thought, to be able to select from the whole menu of human achievements than to be bound within one narrow range" 
Orson Scott Card.
Take an excursion from Kazakhstan to Usbekistan.
The necropolis of Shalgay is in 10 kilometers to the southeast of the village Shalgay of Zharkain district of the Akmola region. Terisakkan settles down on the right high river bank. The monument is presented by funeral designs laid out from a stone.
The East-West is extended on the line. The largest designs settle down in east part of a necropolis. From West side adjoins stone designs small stone desiign the sizes of 2,5 x 1,3 m focused on the line the West-East.
The design 1, has the sizes of 6 x 8 m, height on corners of walls of 2 m. It is presented in the form the house of a figurative design with triangular in respect of forward and a back wall. From East side there is an entrance aperture, 1 x 0,5 m in size.
Design 2, sizes of 6,6 x 6 m. Height on corners of a design of 1,7 m. Thickness of walls 1,7. The design is presented in the form quadrangular in respect of the house with side walls, triangular to top. The design 3, represents a construction of an oval form, the sizes of 5,5 x 4 m.
Thickness of walls 0,8. Design 4 it is presented by a construction of an oval form, the sizes of 5 x 4 m, 1 m high. Thickness of walls is 1 m. The design 12 is presented by a construction of an oval form, put from large stones. Sizes of 5 x 7 m.
Thickness of walls is 1 m. Design 13 square in the plan, 5 x 5 m in size. Thickness of walls is 1 m. The monument is dated modern times.
Geographical coordinates of a monument N 50 °39′46.5 ″ E 67 °5340.0″
Authority:
The world Turkic congress the Center of genealogical researches at TURAN PRO Academy Scientific research institute of archeology of K. A. Akishev at ENU of L. Gumilev. www.tengrifund.ru