Necropolis of Daumshar.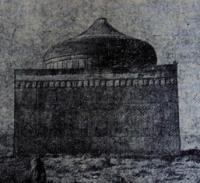 Tours of historical monuments of Kazakhstan.
"The steppe could not stand
Clear-faced tall people.
Who didn't give up
They hastily rushed to the ridge,
And high stones fell to the grave"
Olzhas Suleimenov.
Tours of architectural monuments of Kazakhstan.
Nekropolis Daumshar is an architectural monument of the burial-cult complexes of Western Kazakhstan of the late XVIII - early XX centuries. A 4-hectare necropolis is located on the left bank of the Emba River, 37 km south-west of the village of Zharkamys of the Baiganinsky district of the Aktobe region of Kazakhstan. The name "Daumshar" is associated with the name of Daumshar, one of the leader of the Embene Kazakhs, who was buried here in 1810. The tombstones erected by folk craftsmen are rectangular monuments in plan with southern facades, with ceilings decorated in the form of a helmet-shaped dome. In Daumshar, saganatams of various types, laid out from sawn blocks, kulpytases, koytases, sandyktas, fenced beyites, laid out from stones, are represented. Their outer surface is separated by contour carvings with painted ornaments. Arabographic epitaphs in the Kazakh language and tamga are placed on the edges of the kulpytases. The necropolis in 1982 was included in the list of monuments of history and culture of republican significance and is protected by the state.
Geographic coordinates of the Daumshar necropolis: N47 ° 40'50.64 "E56 ° 03'23.94"
Authority:
The set of historical and cultural monuments of Kazakhstan. West-Kazakhstan region.