Museum in Dashoguz.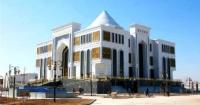 Visit of the museum in Dashoguz.
On June 21 201 years in Dashoguz, the administrative center of Dashoguz Region the new museum opened. The museum building in Dashoguz represents the three-storyed white marble structure topped with a cone-shaped dome with a turquoise ornament.
In its funds - more than 8 thousand monuments of history, culture and art of the Turkmen people: archeological finds, ancient clothes, carpets, jewelry, house utensils, documents on edge stories.
Among exhibits - the unique archaeological collection collected in the course of researches of the Khorezm archeology ethnographic expedition headed by the scientist Sergey Tolstov and transferred to the museum in the 40th years of the last century.
As a part of a collection - the ceramics and household items relating to the Stone Age, an era of bronze, antiquity.
Authority:
On materials of information department of the State committee of Turkmenistan on tourism and sport.