Mountains Sholkara.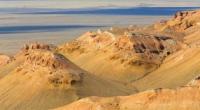 Tours & travel Kazakhstan.
"The expedition is a school in which the process of learning about nature, people's experience, and people's wisdom is endless. Traveling expands the colorful fan of human knowledge"
E.M. Murzaev.
Silk Road tours Atyrau region.
The Sholkara mountains, poorly preserved remnants of the Ustyurt plateau, are located 114 kilometers southeast of the regional center - Kulsary, 105 kilometers east and slightly north of the Karakum sands 20.4 kilometers northwest of the Zheltau mountains, 79 kilometers to the north-east of the village of Borankul in the Zhylyosky district in the south-east of the Atyrau region.
The Sholkar mountains stretch in latitudinal direction for 29 kilometers, the greatest width in the central part of the mountains is 4 - 4.5 kilometers. The dominant unnamed mark is located in the northern part of the hill and is 121.9 meters above sea level, in the central part of the mountains is dominated by an elevation of 120.3 meters above sea level.
The Sholkara mountains belong to the westernmost distribution of the Donyztau cliff, in the south there is an unnamed salt marsh; from the southeast, the mountains border on the Zheltau mountains. The mountains are located at the junction of the Atyrau, Aktobe and Mangistau regions, where part of the Atyrau region has an elongated appendicitis from the south-east to the north-west.
The territory of the mountains is one of the most inaccessible, least explored; the nearest settlement is located 79 kilometers in the southwest west - the village of Borankul (formerly Oporny). Territories of flat surfaces and remnant plateaus are distinguished in the relief of the mountains, the western part of the mountains is the steepest and most steep, the eastern is smoothed.
The climate of the region is sharply continental, arid, with sultry summers and cold, little snow. in winter, with large daily and seasonal temperature fluctuations. The territory in the botanical and geographical relation belongs to the middle deserts.
The Sholkar Mountains are rich in paleontological finds - oyster shells, teeth of Paleogene sharks, vertebrae of bony fish that lived in the Tethys Ocean about 40 million years ago.
Geographic coordinates of the Sholkar Mountains: N46 ° 34'02.21 "E55 ° 21'16.12"
Authority and Photos:
Alexander Petrov.