Mountain Aidakhar Ugіrі.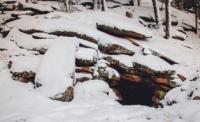 History of the cities of Kazakhstan.
"The word shall not abide.
There is a secret of two, but no secret of three
And everyone knows the mystery of four"
Firdousi Abulkasim.
Cities on the map of Kazakhstan.
Name of sacral place: Cave Aidakhar Ugіrі. Location: Ulgili village, Zerenda district, Akmola region. Data on sacral site: the cave Aydahar Ugіrі is an extraordinary energy place where tourists and residents of the Zerandinsky district come to get energy.
The gaze of those who descend to the cave offers a beautiful view. Even the most amazing camera will not be able to convey the share of the beauty of this place. The length of the cave is 270, its width is 70, and its height reaches 35 meters.
The cave was discovered by chance by local residents. Since then, pilgrims annually walk a few kilometers to visit this cave, to hear the sounds of nature, the wind. This cave is also called the keeper of "holy places."
It is believed that passing through it is useful for cleansing the body and human health in general. Mental illness is cured here. The cave served as a spiritual refuge for creative people. It is small in size, but inside it seems so huge that even a dragon could fit inside it.
Perhaps this is the origin of the name "Aydahar Ugіri". Locals believe the cave is sacred, its appearance can not be an accident. Stories and legends: According to one of the legends, a doctor lived in this cave, it was difficult to get to him, but the person who got to him, got rid of any disease.
After the death of the doctor, his strength and energy were allegedly left in this cave. This helped residents get rid of ailments. Now to go to this cave is much easier. To this day, the energy of this place surprises residents and visitors of the region.
Authority and phptos: 
Stories of local residents. http://srh.kz/content/gora-aydaar-gr/