Monument of Zhambyl Zhabayev in Ust-Kamenogorsk.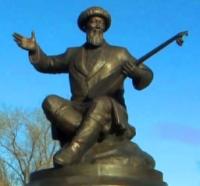 Monuments of Ust-Kamenogorsk.
"A green meadow stretches between the scientist and the poet: his scientist will pass - he will become a sage, his poet will pass - he will become a prophet"
Khalil Gibran Gibran.
Sights of Ust-Kamenogorsk.
In Ust-Kamenogorsk, November 14, 2019, in the park of Zhambyl, an expressive and excellent monument to the great poet Zhambyl Zhabayev was erected. The initiative to create the monument belongs to the akim of the East Kazakhstan region D. Akhmetov.
The authors of the monument are sculptors Sarsen Seitov and Kazybek Dulatov. The height of the monument to Zhambyl Zhabayev is 2.5 meters. The monument is made of bronze. The great akyn is depicted sitting on a stone with bent legs, in a pose of reciting aitys, with his right hand raised and the dombra held by his left hand.
The monument is crowned with akyn sculpture, which is installed on a round pedestal with an inscription on the front side of the sculpture in a circle "Zhambyl Zhabayev. 1846 - 1945. " 4 rounded steps lead to the round pedestal.
Authority:
Alexander Petrov.