Monument of Zhambyl Zhabaeyv in Almaty.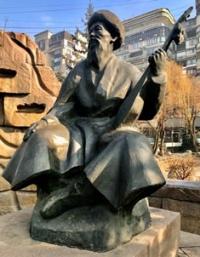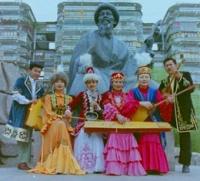 Monumental monuments in the cities of Kazakhstan.
"Leningraders, my children!
Leningraders, my pride!
Me in the stream of the steppe stream
A reflection of the Neva stream is visible.
If along the snow ridges
With a senile gaze, I glide
I see the arches of your bridges
Dawn of the Baltic blue,
he lights of the evening swarms
The gilded roofs of the point ...
Leningraders, my children!
Leningraders, my pride!"
Zhambyl Zhabayev.
A trip from Almaty to the Otar station.
The monument to Zhambyl Zhabayev in Almaty is a monument of monumental art to the Kazakh folk poet akyn Zhambyl Zhabayev (1846 - 1945). It was erected in honor of the 150th anniversary of birth on Dostyk Avenue in the Medeu district (in front of the Israkra cinema, in the courtyard residential complex "Three heroes") in 1996.
Authors: sculptor B. Abishev, architects S.K. Baimagambetov, T. Eraliev, S. Fazylov. The monument consists of a complex of elements that create the integrity of the appearance of the entire monument. The akyn sculpture was executed in a realistic manner: a thoughtful look, the right hand is located on the knee, the left hand holds the dombra.
The monument conveys the creative mood and inspiration of akyn. Behind the back of the sculpture a landscaped pond.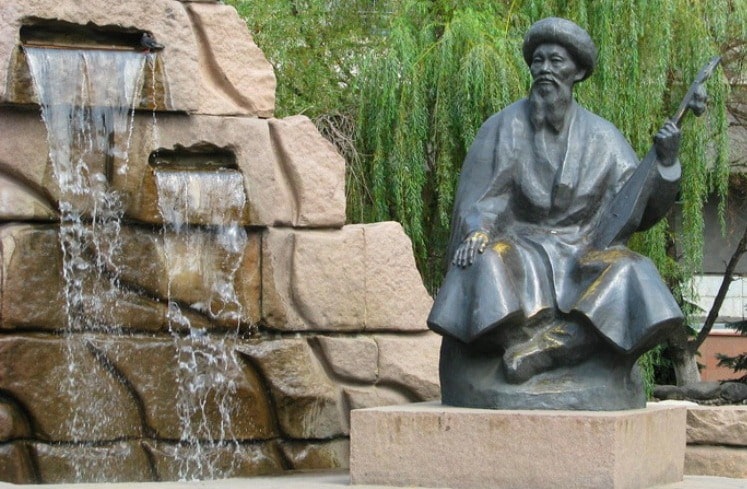 Literature:
Matveeva L.A. Monument to the "Warriors of Kazakhstan."
In the book: Monuments of history and culture of Almaty. The catalog of documents of the Office of Archives and Documentation and the Central Administration of the City of Almaty.-Almaty, Oner Publishing House, 2003, p. 183
Authority:
Vladimir Proskurin (Berlin).