Monument of Seyfullin at the Agrotechnical University.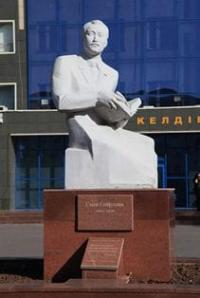 Nur-Sultan - a guide to the sights.
"A poetic imagination wanders and reincarnates things, gives them their purest meaning and determines relationships that are hitherto unknown, but always, always, always wielding facts of clear and precise reality itself. It is inside human logic and is controlled by the mind, from which it cannot separate"
Federico Garcia Lorca.
Tours from the city of Nur-Sultan to Zhanaozen.
The monument dedicated to Saken Seifulin is located on Victory Avenue in front of the main building of the Kazakh Agrotechnical University in the city of Nur-Sultan. The monument is a bust of S. Seifullin on a low pedestal with an open book in his hands.
t was established on November 5, 1972 to commemorate the 55th anniversary of the October Revolution. Initially, the monument was located on the square in front of the S. Seifullin Pedagogical Institute, but in connection with the unification of the pedagogical institute and the Tselinograd Civil Engineering Institute into the L.N. Eurasian National University Gumilyov, transferred to the facade of the Kazakh Agro Technical University.
In 1996, the Kazakh Agrotechnical University was named after S. Seifullin. The author of the monument is sculptor Bushtruk Yu.P. The name of Saken Seifullin - a revolutionary, public and statesman, prose writer and poet, the founder of Kazakh Soviet literature - is inextricably linked with Akmola.
In March 1917 he moved to the city of Akmolinsk. In 1920, with his close assistance and participation, an agricultural school, two technical schools, 104 first-level schools, 3 second-level schools, 6 school workshops were opened in the county, a number of performances and concerts were organized.
A central district library was opened, Workers 'and Peasants' Club named after the Third International, in which sections were functioning: dramatic, choral, musical, literary. In June 1922 he was elected Deputy People's Commissar of Education of the Kyrgyz (Kazakh) Autonomous Soviet Socialist Republic, and in October of that same year, he was elected Chairman of the Council of People's Commissars of the Republic.
Authority:
https://direkt-15.kz/ru/pamyatniki-i-ob-ekty/monumentalnoe-iskusstvo/pamyatnik-sakenu-sejfullinu