Monument of Raimbek in Almaty.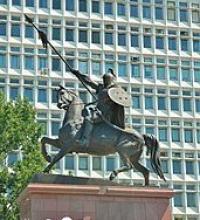 Tourist trips in Almaty.
"Do not pray before the fight. If you do not know how to fight, prayer will not help you. When you come face to face with the enemy, say to yourself: "I do not want to fight you, I want to kill you!"
Ernst Heine.
A trip from Karkaralinsk to Almaty.
The monument to the batyr Raimbek of the XVIII century who liberated the Seven Rivers from the Dzungarian invaders is installed on the eponymous avenue. The equestrian monument 12 meters high was installed on December 7, 2012.
Sculptor Edige Rakhmadiev. The years of the batyr's life and the lines from the poem by Mukagali Makatayev are engraved on the pedestal: "Ұrpakyna medet ber, Uly to the women!". Raiymbek-batyr (1705 - the date of death is unknown). Rayymbek - Kazakh batyr.
His grandfather - Khankeldi-batyr - in 1733 together with famous people of the Elder Zhuz Kodar bi, Tole bi, Satay-batyr, Bolek-batyr sent an ambassador to the Russian Tsarina Anna Ioannovna with a proposal to agree to the entry of the Elder Zhuz under the patronage of Russia (1730 - 1740).
Raiymbek, who at the age of 17 showed unprecedented heroism in the fight against the Dzungarian troops, was honored - he became a batyr. Between the ridges of Toraigyr and Soget there is a plain Oyrantobe, where he fought with the Dzungars.
Not far from the Aiyrly pass of the Toraigyr mountains there is a spring Rayymbek. Together with Raiymbek, batyrs Satay, Bolek, Kyzylborik, Koikel-di, Konakeldi, Kistik, Malay, Yesen, Bayseit and others participated in the battles against the Dzungars.
The name Rayymbek-batyr turned into a symbol and honor of the Albanian clan. Its mausoleum is located in the city of Almaty.
Geographic coordinates of the monument to Raimbek batyr: N43 ° 16'13.40 "E76 ° 57'07.18"
Authority:
https://infourok.ru/otey-batir-istoriya-kazahstana-2986341.html