Monument to Makhambet and Isatai in Atyrau.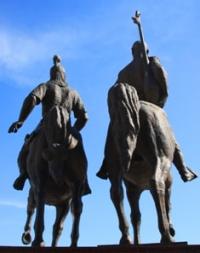 Walking through the cultural monuments of Atyrau.
"How were you hardy, powerful and solid, In the fight mercilessly persistent and proud! My eagle, your free voice thundered. You were fearless, stubborn and brave.
I ask one of fate: Fights of a new, hot fight! "
Makhambet Utemisov.
Walking through the monuments of the history of Atyrau.
The monument to Makhambet Utemisov and Isatay in Atyrau was erected on September 30, 1995. Author Copbol Demesinov. Artists sculptors: Taitaliev B., Bekeshev A., Sergebaev E., Bokeby S. The memorial complex is located on the right bank of the city of Atyrau.
The Isatai-Makhambet monument is a two-figure equestrian composition, covered with bronze, each more than 5 meters high, erected on a two-meter pedestal. A truncated sphere "Kurgan" is installed on the moving side of the monument, a bas-relief "EdilZhayyk" is placed on the section of the "Kurgan", symbolizing the unity of Makhambet and Isatay with the people.
The bust of makhambet Utemisov was recreated by the sculptor, anthropologist Noel Zhumabayuuly Shayakhmetov. The bust was restored from the skull of Makhambet by the method of academician M. Gerasimov.
The memorial complex is located in the right-bank part of Atyrau. The complex is located linearly between the two spiritual centers of the city - the new mosque "Iman" and the Assumption Church, and together with them and the residential complex forms a single urban ensemble.
The architectural and memorial complex consists of 3 parts: the Makhambetu and Isatay monument, the Akzhol alley and the landscape mini-park. The memorial complex covers an area of ​​about 5 hectares.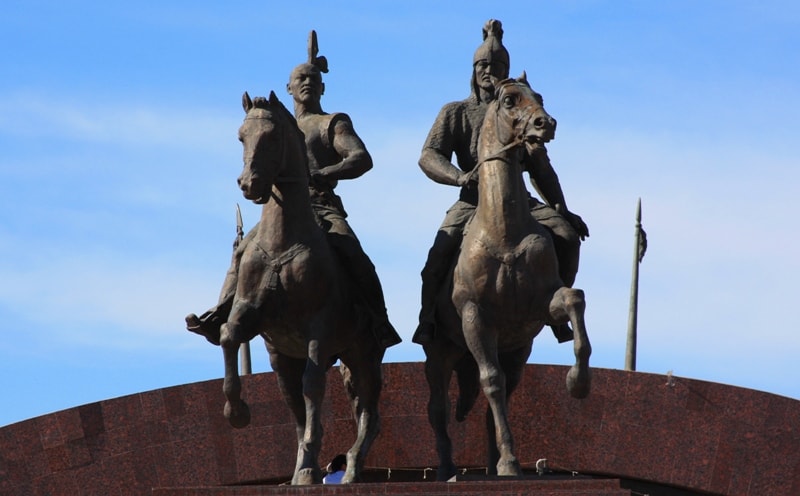 Authority:
"Historical and cultural monuments of Atyrau and Atyrau region." Edition of the Department of Tourism and Sports of Atyrau region.
Photos by
Alexander Petrov.