Monument of Kuddus Kuzhamyarov.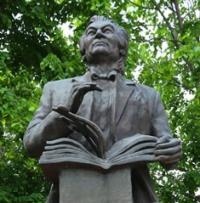 Sunday walks in the vicinity of Almaty.
"Simplicity, truth and naturalness - these are the three great principles of beauty in all works of art"
Christoph Willibald Gluck.
Budget tour in Almaty.
The monument to Kuddus Kuzhamyarov near the Republican Uyghur Theater of Musical Comedy was erected in July 2008. Sculptor Magamed Abdullaev and architect Arkin Mametbakiyev.
On March 3, 2005, by the decree of the Government of Kazakhstan, the name of the People's Artist of the USSR Kuddus Kuzhamyarov was assigned to the State Republican Uyghur Theater of Musical Comedy.
Kuddus Kuzhamyarov was born on May 21, 1918 in the village of Kainazar, now in the Enbekshikazakh district of the Almaty region of Kazakhstan.
At the age of 3 months, he lost his father.
When Kuzhamyarov arrived in Alma-Ata to enter the music and drama college (now the Alma-Ata College of Music named after P. Tchaikovsky, he was not yet 16 years old.  He studied in the period 1933-1939, first in the violin class, then moved to the piano department where he began to compose music, passed the exams at the composer's faculty of the Moscow Conservatory, however, because of the outbreak of war, he had to postpone his studies - he was drafted into the Red Army.
In 1943 he joined the Communist Party at the front. After demobilization in 1946 he returned to Alma-Ata. In 1951 he graduated from the Kazakh Conservatory in composition with Professor E.G. Brusilovsky. After graduating from the Alma-Ata Conservatory for two years (1951 - 1952), he trained at the Moscow Conservatory (class of professor V.Ya. Shebalin).
In 1952 - Artistic Director of Kazakh Radio. Since 1953 he was a teacher in the instrumentation class, from 1955 - in the composition class, in 1957 - 1967 - the rector, in 1960 - 1964 and 1969 - 1991 - the head of the department of the Kazakh Conservatory.
Since 1965 - professor. Member of international festivals in Tehran in 1961 and in Baghdad in 1964. In 1976, he was a member of the jury of the All-Union Festival of Creativity of Young Composers and Students of USSR Musical Universities in Leningrad, He died on April 8, 1994 (according to other sources - April 10, 1992) in Alma-Ata.
He was buried in the Kensai cemetery.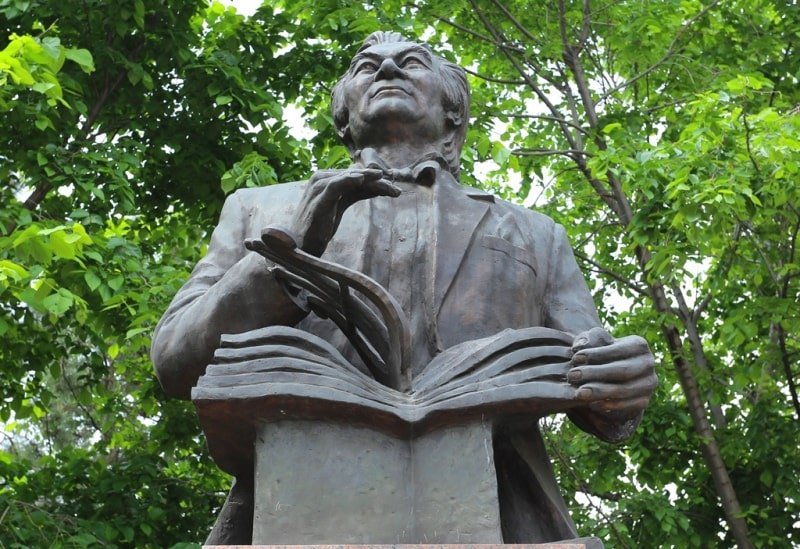 Literature:
Matveeva L.A. Monument to the "Warriors of Kazakhstan."
In the book: Monuments of history and culture of Almaty. The catalog of documents of the Office of Archives and Documentation and the Central Administration of the City of Almaty.-Almaty, Oner Publishing House, 2003, p. 183
Authority:
Vladimir Proskurin (Berlin).
Photos
Alexander Petrov.