Monument of Kalinin in Almaty.
Unique archaeological sites of Almaty region.
"The more correctly you accomplish the thing, the more important you consider it"
Plavt.
A trip from Karabutak to Almaty.
The monument to Mikhail Ivanovich Kalinin was erected in 1972 near the station of the railway station Alma-Ata-2, in 2001 it was transferred to the square behind the Sary-Arka cinema. Sculptors - Kh. I. Nauryzbaev, V. Yu. Rakhmanov, architects - A. Abdaliev, A. Ordabaev.
The monument, 3.7 meters high, is made of gray granite, recreates the image of M. I. Kalinin at the time of his speech to the people.
In September 1919, Mikhail Ivanovich Kalinin paid a working visit to Kazakhstan as part of an agitation train for the October Revolution of the All-Union Central Executive Committee.
In 1920, M.I. Kalinin makes a visit to the city of Alma-Ata, which at that time was the capital of the Kyrgyz Autonomous Soviet Socialist Republic.
In October 1935, M.I. Kalinin visited the Kazakh Soviet Socialist Republic during the reign of Levon Isaevich Mirzoyan, who was sent to the republic to replace F. Goloshchekin. L.I. From 1933 to 1938, Mirzoyan was the first secretary of the Kazakhstan regional committee of the CPSU (b), the first secretary of the Central Committee of the Communist Party (b) of Kazakhstan.
In October, the Kazakh Republic celebrated its 15th anniversary. M.I. Kalinin made a speech at the Palace of Culture of Alma-Ata.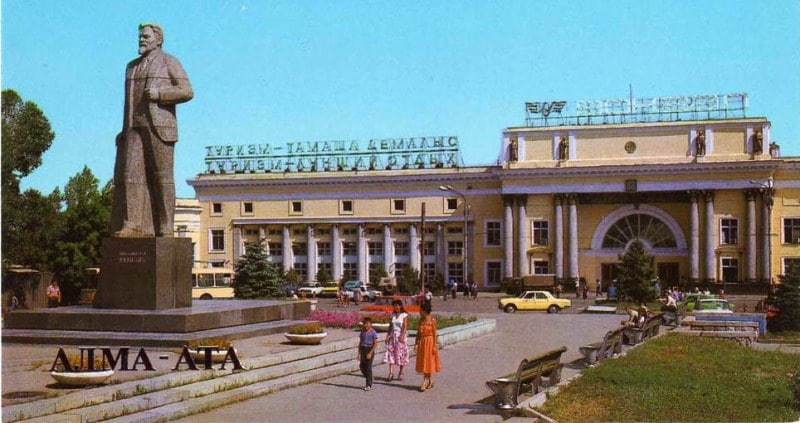 Literature:
Monuments of history and culture of Almaty. Catalog of documents of the Office of Archives and Documentation and TsGA of Almaty.
Almaty, Oner Publishing House, 2003, p. 160 - 161/
Аuthority:
Vladimir Proskurin (Berlin).