Monument to Gate of Eurasia.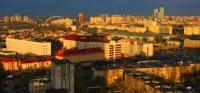 Classic tourist route in Kazakhstan.
"Architecture is an art that affects a person most slowly, but most firmly"
Hiking trails in sights Nur-Sultan.
The Eurasia Gate Monument is installed in the eponymous square at the intersection of Saryarka Avenue and Kenesary Street. This is a gift of the West Kazakhstan region. As you know, the Ural River and the Ural Mountains divide the continent into Europe and Asia.
Uralsk - the administrative center of the region - is just a kind of "Kazakhstani" gate from one part of the world to another. The concept (author - Askhat Akchurin, designer - chief architect of WKO Kuanysh Kiyashev) is based on the idea of ​​a kind of Eurasian bridge connecting two continents - Europe and Asia.
The central composition is the Eurasia Monument, which consists of two petals flowing around the holy shanyrak - a symbol of prosperity, prosperity and friendship.
Authority:
http://reactor.inform.kz/samye-interesnye-pamyatniki-astany-a3656