Monument of Abylai Khan in Almaty.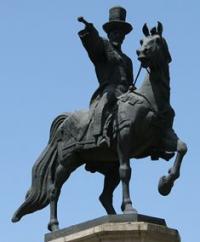 Monuments of monumental art in Almaty.
"The majority-controlled government is not based on justice, no matter how people understand it."
Thoreau Henry.
Table of monuments of Almaty.
The monument to Abylai Khan was installed on the forecourt of the Almaty-2 railway station. Khan of the Kazakh state (until 1771 - the Sultan), statesman Abylay Khan (1711 - 1781). Abylay Khan went down in the history of Kazakhstan as a brave commander, a visionary politician and an outstanding figure of that time.
During the reign of Abylai Khan, three zhuzes of Kazakhstan united, recaptured the lands of Semirechye and drove the Dzungarian invaders from Kazakh land. The image of Abylai Khan became a muse for many akyns and poets and was often displayed in kyui: Bukhara, Umbetey, Shadi-tor, Zhangiruly; in the poems of Kopbay Zhamantayuly, Mazhit Aitbaev; in the works of I.
Esenberlin, A. Kekilbaev, K. Zhumadilov. The monument was built in 2000. The monument monument is mounted on a multi-tiered octagonal pedestal made of gray granite and white marble. The monument itself is cast in bronze.
Abylay Khan sits on a horse in richly decorated clothes and military equipment. In his right hand he holds a rod, which is a symbol of the khan's power. The base of the pedestal of the horse sculpture is four corner columns that hold the hinged cornice.
The general feeling from the monument is power, strength and greatness. Authors: head of the creative team architect S.K. Baimagambetov, sculptor K.K. Satybaldin, architect T. Eraliev, Z.S. Baimagambetov, V.I. Sidorov, M.E. Erkenov.
Authority:
Kazakh Soviet Encyclopedia, 1983 3. Set of monuments of history and culture of the city of Almaty Ch. Editor B. G. Ayagan, 2006.
Photos
Alexander Petrov.