Memorial stele of Badrisafa Mukhamedsadykkyzy.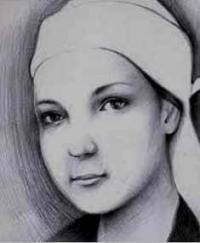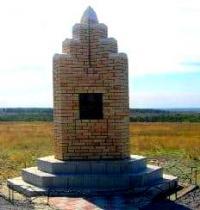 Monuments of history and architecture of Kazakhstan.
"I experienced a lot from the royal power, there was no one to support me, to help. That's when your Aunt Padres gave me a helping hand.
When we went to the Tsarist State to register (to be registered), we were not allowed to marry, referring to the fact that she was of another nation. Then Alexandra took her Bashkir maiden name Padrisa.
Akhmet Baitursynov.
Memorial monuments of Kazakhstan.
The memorial stele dedicated to Badrisafa Mukhamedsadykkyzy is located at an altitude of 155 meters above sea level, located 1.6 kilometers southeast of the right (eastern) bank of the Tobol River, 480 meters north of the Zhideksau ravine, 12.1 kilometers north -west of the village of Kaskat, 8.8 kilometers northeast of the village of Zagarinka, 4.7 kilometers north of the state border between the Republic of Kazakhstan and the Russian Federation, in the Mendykarinsky district, Kostanay region.
Monument to the friend and colleague of the famous Kazakh writer and educator Akhmet Baitursynov - Badrisafa. Her real name is Alexandra Ivanovna. Alexandra Ivanovna was born in the Chelyabinsk region in 1878. She grew up in a Kazakh aul, knew the language well, Kazakh customs and traditions, was unusually friendly in communication.
People loved her for rare spiritual qualities: responsiveness, compassion for other people's pain and true humanity. She met Akhmet Baitursynov. in the village of Auelikol, where she taught Russian at a local school.
A young teacher Ahmet also worked there. As is often the case, the young fell in love with each other and decided to marry. It was difficult for people of different faiths to do this, but their sincere love overcame this seemingly insurmountable obstacle.
In 1896, they got married in a Muslim mosque in the city of Troitsk, but for this, Alexandra Ivanovna had to convert to Islam and take the Tatar name of Badrisafa Mukhamedsadyk-kyzy. Their life together began in Kustanai.
Badrisafa did not limit herself to the role of a modest housewife. She took all possible part in all the affairs of her husband, thanks to her hospitality, the Baitursynovs' house became a gathering place for the future leaders of the Alash party.
Badrisafa was an individual member of the newspaper's material support fund, participated in the creation of the Alash party. Many facts were found about her life in Troitsk and Orenburg. The Baitursynovs lived there for some time.
In 1929, in connection with the exile of Akhmet Baitursynov to Arkhangelsk, Badrisafa, as the wife of an enemy of the people, together with her daughter Sholpan, was sent into exile in the Tomsk region. Then they were separated, Sholpan was left in Tomsk, and Badrisafa was sent to Western Siberia, to logging in the village of Zhukovo.
In 1934 they returned to their homeland. In 1937, when Akhmet Baitursynov was again arrested and shot, Badrisafa was arrested and sent into exile in the Sverdlovsk region. Here she fell seriously ill. Until now, there is no accurate information about the last years of the life of Badrisafa, a faithful friend and comrade-in-arms of Akhmet Baitursynov, who fully shared the tragic fate of her husband, who fell victim to the Stalinist regime.
According to one version, she died in the village of Alexandrovka, Kustanai region, in an asylum for the mentally ill. But there is another version. In June 2009, the newspaper "Egemen Kazakhstan" published an article by Kostanay journalist Nazira Zharimbetova.
In it, with reference to the words of elder Esimkhan Turlybekov, it was reported that around November 1947, a Russian woman named Alexandra appeared in the village of Kaskat, Mendykarinsky district. he was accompanied by our fellow countryman Kasym Togyzakov, who had previously communicated with Akhmet Baitursynov.
Kasym Togyzakov brought this woman to the house of Esimkhan Turlybekov and said that she was the wife of a famous person, but asked to hide this information and help her with housing. According to Yesimkhan's memoirs, the woman was very tall, beautiful, with long hair.
She was wearing a white scarf, tied in the Tatar way. Later, when Turlybekov saw a photograph of Badrisafa, he confirmed that it was the same woman. For about a year and a half she lived in Cascatel. Once, in late autumn, Alexandra went to the lake, which was not far from the village, and did not return.
Yesimkhan and his father went looking for her and found her dead. Since it was impossible to bury a Russian in the family cemetery, they buried her outside the cemetery. In 2012, a memorial stele was solemnly opened at the grave of Badrisafa, built at the expense of the relatives of Akhmet Baitursynov.
It is a building made of light yellow brick, on which a memorial plaque with a portrait and brief biographical information of Badrisafa is installed. The base is lined with curb tiles. The stele is surrounded by a low metal fence.
Geographical coordinates of memorial stele dedicated to Badrisafa Mukhamedsadykkyzy: N54°09'20.18" E63°56'37.93"
Authority and photos:
https://library-rudny.kz/news/pamyatnik-zhene-ahmeta-bajtursynova-b/