Medieval settlement Buzuktobe.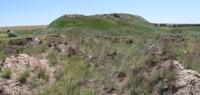 Photo tours to monuments of Turkestan region.
"Wherever you see lepers, discouraged, be gentle,
If such an unlucky person is in the dark, share your secret knowledge
On the day of judgment, to be closer to the Almighty,
I fled from the arrogant, self-confident proud"
"Hikmets" by Khoja Ahmed Yassavi.
Photos of ancient monuments of Turkestan region.
The medieval settlement of Buzuktobe is located on a hill 188, 9 meters above sea level, 2.6 kilometers to the west and slightly south of the village of Koktobe, 5.2 kilometers north-west of the village of Akkol from the left (western) bank of the Syrdarya, in 4.1 kilometers in the Otyrar district of the Turkestan region.
The site is an octagonal, close to an oval area about 2 meters high. From north to south, the Buzuktobe settlement stretches for 350 meters, from west to east - 330 meters. The settlement is surrounded by an earthen rampart from 1 to 1.5 meters high with the remains of corner towers.
In 1947, the settlement was surveyed by YuKAE under the leadership of A.N. Bernshtam. The lifting material allows the site to be dated to the IXth - XVth centuries.
Geographic coordinates of the medieval settlement of Buzuktobe: N43 ° 11'45.50 "E67 ° 45'02.77"
Authority and photos:
Alexander Petrov.