Mavlono Usmoni a mosque.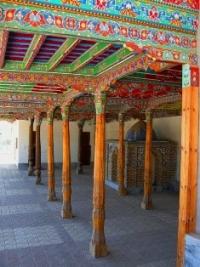 Ancient monuments Istaravshan.
 "If an ancient man saw planes two thousand years ago 
He would've thought they were birds 
Or angels from another world 
Or messengers from other planets" 
Dejan Stojanovic.
Travel along routes of Tajikistan.
Mosque Mavlono Usmoni Charhi it is located in depth of quarter of town of Istaravshana Obodi Sughd of province. Mosque Mavlono Usmoni Charhi is an architectural monument of XIX century and under the plan represents square one-columned khanaka.
The mosque is surrounded from three parties columned айваном. The court yard is arranged well by pool - khauz. The mosque is constructed in XIX - the beginning of XX century. She is in depth of the same quarter, on the designing compositions are represented with a square surrounded from three parties columned iwan.
The central wooden column carved, with a type-setting stalactite capital and figured base. She is executed in the middle of XX century by local masters instead of old. The ceiling too is repaired, but has completely saved purlins a design.
Near to a mosque there is a mausoleum of the poet, great religious figure Ishona Mavlono Usmoni Charhi. The mosque has been constructed later and named by its name. In the end of XX century near the mausoleum and a mosque means of local businessmen had been constructed a greater mosque with modern architectural projects.
The entrance hall with капитегью has been constructed. The door with a groove is executed by local masters. Now this building is used, as a cathedral mosque of the city of Istaravshan.
Authorship:
The Tourist guidebook on monuments of Tajikistan. 2012.