Mausoleum of Ukash ata.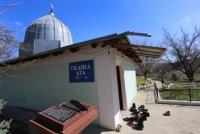 Trip Kazakhstan.
"A madman loves a madman, and a mullah loves a dead man"
Turkmen proverb.
Small group holidays Kazakhstan.
The mausoleum of Ukash ata (kaz. Kasha ata) is located on the southwestern slope of the Karatau ridge, 9.1 kilometers to the west and slightly south of the village of Abay (town administration of Turkestan), 9.3 kilometers to the north and slightly east of the village of Kumaylykas (town ​​administration of Turkestan) 13.2 kilometers northwest of the village of Karnak on the territory of the Babaykorgan rural district, subordinate to the town administration of the town of Turkestan in the southwestern part of the Turkestan region.
The mausoleum of Ukasha ata is included in the memorial complex in the reserve-museum "Azret-Sultan" At first, only a grave was located on the site of the mausoleum, in the period from 1989 to 1990. local residents built a mausoleum.
The mausoleum consists of two rooms: the first is a small entrance room, the second is oblong, 22.2 meters long, 4 meters high, and 4.6 meters wide. Has seven small windows. There is a 21 meter long gravestone inside the structure.
This is one of the largest gravestones in Kazakhstan. The giant tombstones correspond to the South Arabian Yemenite tradition that spread to Central Asia during the Karakhanid era. Outside the building, there is another monumental tombstone - the 12-meter tomb of Yer-Koyan (Yerkoyan-batyr), who is considered an associate of Ukash ata.
Next to the mausoleum, a modern guest house was built, intended for pilgrims. Since May 30, 2019, the Ukasha-ata complex has been included in the list of historical and cultural monuments of Kazakhstan of republican significance.
Geographic coordinates of the Ukash ata mausoleum: N43 ° 36'54.69 "E68 ° 15'43.53"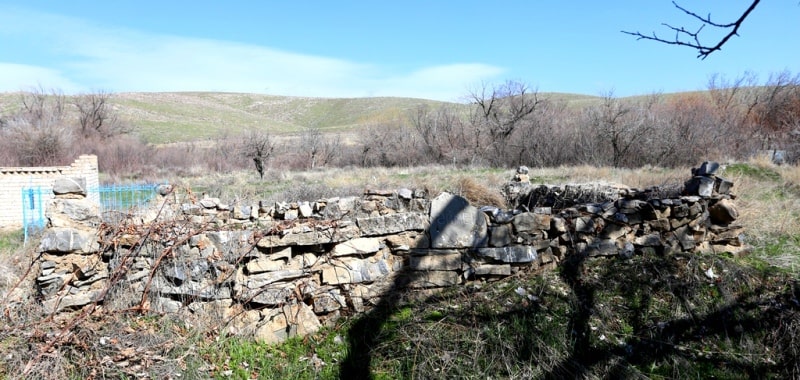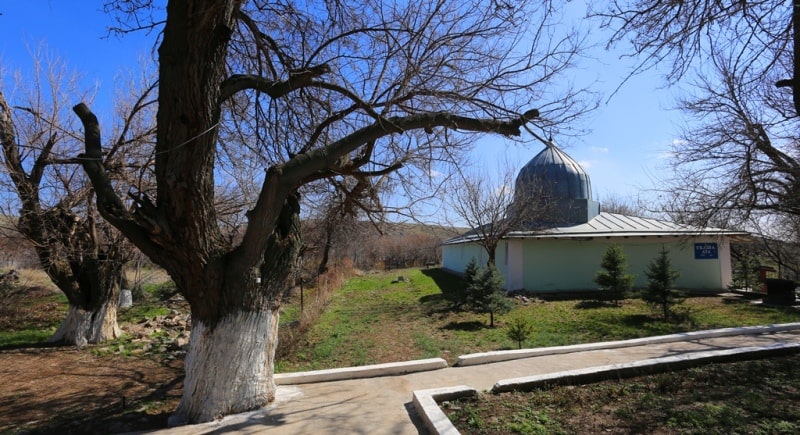 Authority:
http://azretsultan.kz/rus/mavzolej-i-kolodec-ukasha-ata-ih-h-vv/
https://ru.wikipedia.org/wiki/%D0%A
Alexander Petrov.
Photos by
Alexander Petrov.