Mausoleum of Koshkar-ata
Tours to Shymkent.
"I imagine hell like this: Italian punctuality, German humour and English wine" 
Peter Ustinov.
Sights of Shymkent.
The Koshkar-ata mausoleum is located above Ordabasy Square on the left bank of the Koshkar-ata River in Shymkent in the Turkestan region. The book "Saints in Sairam cannot be counted ..." says: "Koshkar-ata enjoyed great respect among the people and was elected a judge.
Koshkar-ata is considered a student of Ahmed Yasavi, whom he treated with great respect and very carefully studied his works. " One of the legends says that he handed his youngest relative his own staff and ordered that spring water be delivered to Turkestan: "May my Khazret enjoy it by drinking water from labor".
Moreover, he warned a relative not to look back on the way to Turkestan. However, he, having gone part of the way, violated the agreement and turned around, the water that he was in a hurry to deliver to the destination spilled. The people called this place - Su burylgan ("Where water spilled").
There is evidence that earlier mazar Koshkar-ata was in a different place and was more interesting. In his book "The History of Shymkent," Bauyrzhan Baitanaev talks about a mausoleum with two graceful decorative turrets symbolizing minarets.
However, during the construction of the station area, residential multi-storey buildings demolished it. So the city lost an interesting architectural landmark. The word "koshkar" means a tribal ram. And this is very symbolic, since the cult of the tribal ram, in Iranian "farn" or "khfarn", has long existed in southern Kazakhstan.
Archaeologists find during excavations, figures of rams, and various ceramics, symbolizing steep curved horns. In medieval Chimkent, this cult was especially popular. At the beginning of the last century, researcher A. Dobrosmyslov wrote on this subject: "The Shymkent people have a special holiday -" Sail Koshkar-Ata "(a spring festival or the festival of the" father "of a ram), literally walking for a week, between 1 and on March 15, depending on the weather and always in Kyrgyz (Kazakh - AG) cabins (yurts - AG)."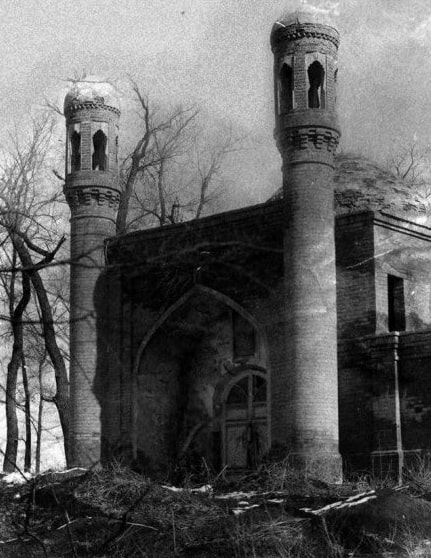 Authority
"History without market conditions. Geography around us", essays. Alexey Goncharov. 2013. Almaty.
Photos
provided by Alexey Goncharov.