Mausoleum of Ibrai Altynsarin.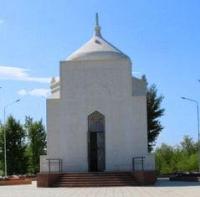 Traveling around Kostanay region.
"I see all possible happiness for my people in the present and in the future not in isolation, not in the knowledge of Allah or Christ, not in self-knowledge, but only in the most complete equal moral and cultural rapprochement with the Russian people. I am sure that everyone will benefit here, everyone will benefit from such a general spiritual development."
Ybyray Altynsarin.
Monuments of history of Kostanay region.
The mausoleum of Ibrai Altynsarin is located at an altitude of 133 meters above sea level, located in the southeastern part of Kostanay, 485 meters from the right bank of the Tobol River, 2.2 kilometers southwest of the village of Michurinskoye, 2 kilometers from the R- 38, 3.4 kilometers north and slightly east of the settlement of Altynsarino, in the city of Kostanay.
The monument on his grave was erected three times: in 1960, 1981, 1991. On September 10, 1947, the executive committee of the Kostanay City Council of People's Deputies decided to "Preserve the burial place of the prominent Kazakh educator Ibray Altynsarin."
It was proposed to ennoble the place of burial. In 1961, in honor of the 120th anniversary of the birth of the great teacher, a granite stone was placed at the place of his burial. In 1991, when the 150th anniversary of the enlightener was widely celebrated in Kazakhstan, a mausoleum of red brick of the portal-dome type was built around the granite stone, the grand opening of which took place on July 22. Its author is Khadzhimurat Kuchikov.
The mausoleum was a portal-dome type building made of red brick. In 2017, the mausoleum was reconstructed, the area and height of the structure were increased. And in October 2017, the grand opening of the mausoleum after reconstruction took place.
The area of the complex is 68 square meters, the height of the monument is 15 meters, the mausoleum is made of shell-limestone delivered from the city of Zhanaozen, Mangistau region. Granite stone was also used during the construction, the facade is decorated with decorative elements in the national style.
Necessary landscaping and lighting works have been carried out on the territory of the mausoleum, video surveillance is underway. In addition to the reconstructed building, two granite stands appeared here, one shows a map of schools opened by I. Altynsarin, and the second shows quotes from the President's program article in Kazakh, Russian and English
Geographical coordinates of mausoleum of Ibrai Altynsarin: N53°10'24.17" E63°37'46.09"
Authority and photos:
https://kraeved-kst.kz/ru/qr/qr-info/mavzolei-ibraia-altynsarina.html#!prettyPhoto
Alexander Petrov.