Mausoleum (Akhmet) Kyzyl Tam.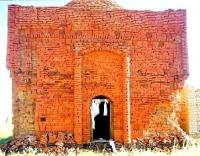 Sights of Kazakhstan.
"Who cherishes his enemy,
The madman in the world will be called that"
Firdousi Abulkasim.
Traveling around Akmola region.
The Mausoleum of Kyzyl Tam (Akhmet) is located in the southwestern part of the Dalabay village, on the right bank of the Esil River in the Zharkayynsky District, located 25 kilometers from the district center of Derzhavinsk in the Akmola Region.
Mausoleum of Akhmet (Kyzyl tam) - an architectural monument of the early twentieth century. For the first time, the mausoleum of Akhmet was investigated in 1955 by the archaeological expedition of the Akmola region under the leadership of K. Akishev.
Later in 1980, the study was conducted by the expedition of the organization "Kaz-Kait zhaigyrtu" (leader Zh. Shaikenov). In 2006, the study was conducted by the general department of the Republican State Research and Design Enterprise "Kaz Job Zhalpina Keltіru" (head G. Kamalova).
This mausoleum was built by the builders Turabay and Rapay on the instructions of the merchant Akhmet Tankeev. The walls are coated with liquid clay, lined with rectangular molded bricks, fortified with fired bricks on both sides.
Facing masonry on four sides at four corners is broken to a height of 2 meters. In masonry, the largest destruction is in the southeastern part of the building towards the roof by stairs. The four-sided plan of the mausoleum is described in the form of a domed portal measuring 6.3 x 6.7 meters.
The total height of the mausoleum is 7.15 meters. The main front part in the south-west direction in the continuation of the main wall appears in the form of a rectangular portal. The opening of the upper part of the door is reinforced with columns on both sides
The edges of the mausoleum are lined with square rows of bricks with Arabic inscriptions with the words "Allah" on the surface of the facade walls along the vertical perimeter in combination with rhombic patterns based on decorative facades.
The central area of ​​the facade is filled with dark bricks with rhombic patterns and decorations. Legend: A long time ago, a rich man Ahmet lived in this area. One morning he did not wake up. People, thinking that he died, buried him. After some time, they heard someone's voice from the grave.
They opened the tomb, from there Ahmet rose with a cry. Frightened people killed him, thinking that he was obsessed with demons. It was only later that they realized that Ahmet was in a lethargic dream, and again buried him, having built a mausoleum.
The descendants of Akhmet still live on the territory of the Zharkainsky district.
List of used literature:
The study of historical and cultural monuments of the Akmola region, the joint department of the Republican State Enterprise "Kazkayta Kalpina keltіru" 2006. Ғ.М. Kamalov. Historical and cultural heritage of Akmola region. Collection of monuments, Almaty - 2008.