Makpal cave in Ugam range.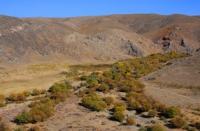 Sights nature Ugam mountains.
"The knowledge of the countries of the world is the decoration and food of human minds"
Leonardo da Vinci.
Caves in the Ugam range.
It is located in the Kazygurt district of the Turkestan region, in the Makpal gorge, in the Ugam ridge, near the waterfall. The cave is formed in carbonate karst rocks.
The entrance to the Makpal cave is presented in the form of an arch 3 meters high, the width of the cave 4 meters, length 25 meters.
The air is very humid, mosses sprouted on the floor of the cave. Near the main cave there are 2 more similar caves of smaller sizes.
Makpal cave is of interest as a tourist and sightseeing natural attraction.
Authority and photos
Alexander Petrov.