Main square Republic of Kazakhstan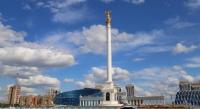 Walks and excursions in Astana.
"A sage should not stop in a city in which there are no five things: first, a just sovereign and a strict and powerful ruler; secondly, running water and fat land; thirdly, scientists with practical knowledge and endowed with moderation; fourthly, skilled and compassionate doctors; fifth, generous benefactors"
As-Samarkandi Muhammad ibn Ali.
Trip from Astana to Lake Borovoye.
On the west side of the residence of the President lies the main square of the Republic of Kazakhstan, which hosts festive events, military parades and civil processions. The area consists of a complex of sculptures and fountains, reflecting the greatness and power of our state.
The composition is located along the central long axis and is designed for walking around. A little girl and a boy on both sides of the fountain symbolize the future of our country. Wolf and leopard, sacred symbols and totem deities of our distant ancestors, who are characterized by a truly heroic typification.
The high-rise buildings of the Mazhilis and the Senate, the Cabinet of Ministers, the Presidential Administration and several ministries are located on the square. On the north side, the area is flanked by a planar structure - a 4-story building of the Supreme Court.
From the south side of the main square - a concert hall with 3,000 seats. The concert hall will be built by the project of the Italian architect Nicoletti, who won the international competition of architects. The design of the building is made in a modern style in the form of inclined plate-walls.
To the west are two curved residential buildings of varying floors with a height of 11 to 15 floors. Facades facing the main square are made in the form of terraces.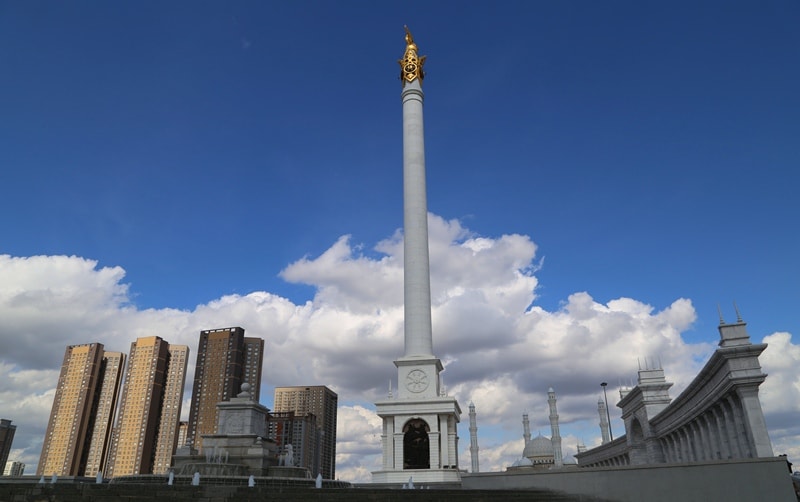 Authority:
T. Dosmagambetov.
Photos
Alexander Ptrov.