Lobanovskoye lake.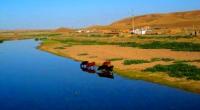 Rest on the lake Lobanovskoye.
"Lake Kultuk-kul (Lobanovo) lies south of Lake Bolshoi Air-tau and has a circumference of up to 7 versts. Its southern shore is open and somewhat elevated, while the rest of the banks of the forest are. It has fresh water and abundant fish. In this section, in addition to the aforementioned, there are still quite significant lakes, often fish, with somewhat brackish-bitter water"
The commander of a separate Siberian corps P. D. Gorchakov. 1847.
A trip to Lake Lobanovskoye.
Lake Lobanovskoye is closed lake located in the Ayyrtau region in the North Kazakhstan region in the low-mountain, wooded part of the Ayyrtau mountains in the southeast. The lake is located at an altitude of 372 meters above sea level in a lowland forest.
The length of the lake is 2.7 kilometers, width, in the central part - 2.2 kilometers. The average depth is 5 meters. The coastline is 8.2 kilometers long. On the eastern shore of the lake is the village of Lobanovo, in the northern part of the lake there are three small lakes 2.7 kilometers from Lake Lobanovskoye, in the southeast, is Baysary Lake.
The flora in the vicinity of the lake is represented by deciduous forests - birch, aspen, sea buckthorn, wild cherries, currants.
Authority and photos:
Alexander Petrov.