Legend of the stand for the Koran.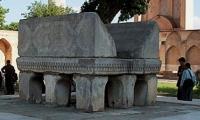 Legends of Uzbekistan
"If the sky is at enmity with me - I am ready to fight,
Good glory is deprived - I am ready to shame anyone.
The cup is full of ruby ​​colored foamy wine ...
Are you ready? An invisible sword is brought over you! "
Omar Khayyam.
Legend of the Great Silk Road.
Preserved legend associated with a marble stand for the Koran. When the Russians wanted to transfer the stand to the fortress, ten horses could not move it, and as soon as they decided to leave in the center of the yard, one horse easily moved it.
On the stand there are really noticeable huge cracks and a few nicks caused by falling bricks.
Enlightener:
"Samarkand. City and Legends. Authors K.Karimova, T.Alimov. "Legends of Samarkand" The author is Candidate of Historical Sciences N. Yakubov.