The legend of Khiva.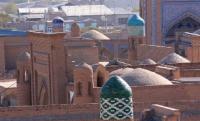 Travel to Khiva.
"Khiva bazaar occupied a small area. They expanded it at the expense of the lake, which occupied about five to six tanabs and located on the eastern outskirts of the city. The population of Khiva by order of His Majesty in 1247 - 1831 - 1832. He fell asleep for forty-five days and broke the bazaar there. Nearby was another area where, in the past, there was a huge charbag, in which there were magnificent palaces lined with tiled plates - the abode of kings - and various fruit and ornamental trees. Of all this, there is only one gujum, and then the withered. Previously, there was a grain market under it, but now there are grocery stores, fish farmers and canteens. This area is called Rasta Bazaar and is located next to the main road. In 1122 - 1768 - 1769 cholera spread in Khiva and costliness began. Very few managed to survive. In 1197 - 1783 grain harvesting began and an apricot ripened, a huge cloud clouded the sky, hail struck, the size of an egg each, and destroyed the crops in the fields nearby the city"
Historian Hudaiberdi ibn Koshmuhammad Khivaki "Dil Gara'ib", "Heart of Rarities".
Individual tours and excursions in Khiva.
Legend has it that during the construction of the Ichan-Kala citadel, clay was used from the same places from which the prophet Muhammad took it when he built Medina. The lake, which appeared later, is considered to be holy.
Another legend tells that the Kheyvak well, the water from which had an amazing taste, was dug by Sim, the son of the biblical Noah. Also according to legend, the construction of Khorezm began Sim. Driving through Khorezm, he fell asleep.
At that time, the place of the city was desert. In the dream, he saw that the city was surrounded by fire. Waking up, he began construction, and he laid the first foundation. During construction, he dug a well and, quenching his thirst, said, "Hey vac! Hey wack!
"Which means" as well ". It was after this that the city took the name Khiva.
Enlightener::
"Khiva City and Legends" tourist guide to Khiva.