Legend about Shaitankol Lake.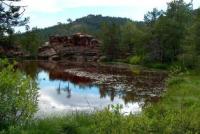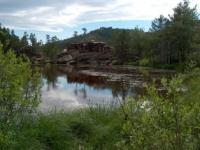 Trip from Astana to Petropavlovsk.
"The function of myth is to remove reality"
Roland Bart.
Tours by car in Kazakhstan.
The wealthy and domineering Tleuberda Bai has long belonged to most of the vast steppes. But more than all the treasures, he appreciated the beauty of the sixteen-year-old daughter Sulushash. Slender and tender, with the eyes of ripe currants and a waterfall of tarry braids, she attracted the eyes of many dzhigits.
But she loved only one - Altai, a herd-maker from her native village. But he did not want to be related to the poor Tleuberda. And Sulushash decides to run. The girl, her lover and friend of Altai Kaisar secretly leave their native village.
Lovers in the steppes wandered for many days until they found refuge in the mountains of Karkaraly. On a fall autumn day, the fugitives reached Lake Shaitankol. Altai and Kaysar, leaving Sulushash in a cave on the lake, went hunting.
Pursuing argali, Kaysar fell off a cliff and died. At that time, Sulushash was suffocating from the smoke. This Tleuberdi set fire to the forest in order to somehow avenge Altai and Sulushash. Fleeing the fire, the girl ran out of the cave and ran into a tiger.
She rushed into the lake, just not to fall into the clutches of an angry beast. Her farewell words echoed to the hearing of Altai. He was already powerless to save his beloved: the velvet skullcap Sulushash swayed lonely on the gray waters of the lake from the ashes.
Altai could not survive such grief. Without hesitation, he stuck a dagger in his heart...
Authority:
http://www.saryarka.karlib.kz
Photos
Alexander Petrov.