Lake Uyurme-Kel in At-Bashi ridge.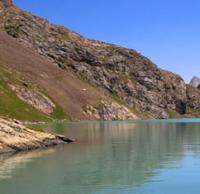 Tours in mountains of At-Bashi.
"The nature of our planet is secretive. And how much effort, time, patience is needed to answer her riddles! A discovery has been made. It would seem that everything is clear, but the time of joy is short. Again, many questions arise, and all of them are waiting for resolution.»
"Years of searching in Asia.". EM. Murzaev.
Lakes in At-Bishi Range.
The flowing, fresh lake Uyurme-Kel is located at an altitude of 3746.4 meters above sea level, located on the southern slope of the At-Bashi ridge in the At-Bashinsky district of the Naryn region. 2.6 kilometers after the sources of the Uyurme River, which it takes on the eastern slope of the gorge of the same name, it flows into the northwestern part of Lake Uyurme-Kel.
The length of the moraine lake is 660 meters from southwest to east, the area of ​​the lake is 0.28 square kilometers, the perimeter is 2.28 kilometers. The Uyurme River, 6.5 kilometers long, flows out of the southeastern part of the lake.
1.7 kilometers northwest of the lake is the Uyurme Pass, located at an altitude of 3851.4 meters above sea level. From the northern side of the pass flows the Uyurme Severnaya River, which is the left tributary of the At-Bashi River.
Geographical coordinates of lake Uyurme-Kel: N41°07'57.95" E76°16'45.74"
Authority and photos by
Alexander Petrov.