Kyzyltau - a nature reserve.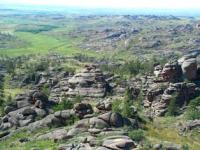 The nature of the Palodar region.
"We live in the midst of nature, we are her friends. She constantly talks with us, but she doesn't give out her secrets."
 I.V. Goethe.
Natural sights of Pavlodar region.
The state nature reserve - Kyzyltau - is located in the south-west of the Bayanaul region, in the north-eastern part of Saryarka. The total area of ​​60,000 ha. Organized with the aim of protecting and reproducing rare animal species and their habitats.
The situation in the natural zoning system is the temperate zone steppe landscape zone, the southern subzone of the fescue-feather grass steppes, the country of the Kazakh plateau and small hills, Bayanaul-Karkaraly district, Bayanaul district.
The relief consists of rocky hills of mattress-like granites and domed hills-hills. Half of the area is occupied by valleys and enclosed basins. Steep rocky slopes, stony screes are characteristic. The territory is located in the Caledonian folded zone of Central Kazakhstan and is composed of sedimentary-volcanic strata of the Lower and Middle Paleozoic.
Surface waters are represented by small rivers. Groundwater is confined to intrusive rocks of different ages. In depressions occur at a depth of 3-10 meters, on watersheds of up to 30 meters or more, the regime is not constant.
The soils are predominantly incompletely underdeveloped dark chestnut gravelly, meadow chestnut with solonetzes are developed along meadows and beams. Karaganovo-fescue, Karaganovo-sheep steppes with chia thickets and birch-aspen tunnels along the lowlands.
Juniper grows on the tops of the mountains. Animals: argali, badger, wolf, marmot, steppe ferret, hare, fox, etc. Birds: gray partridge, black grouse, golden eagle, etc.
Authority:
Advertising booklet of Bayanaul Park, 2003.
Photo
Alexander Petrov.