Kyzyltam necropolis.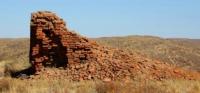 New travels across Kazakhstan.
"Do not let me into the temple of God.
I am an atheist. This is how God created me.
I am like a harlot whose faith is a vice.
Sinners would be glad to paradise - but they do not know the roads."
Omar Khayyam.
Aktobe hiking with english-speaking guides.
The Kyzyltam necropolis is located 333 meters from the northwestern shore of the Kargalinsky reservoir, 14.4 kilometers southwest of the village of Kasestek, 36.6 kilometers northwest of the village of Badamsha, 57.3 kilometers north-east of the city of Aktobe, in the Kargalinsky district in the north of the Aktobe region.
The northernmost of the studied complexes of West Kazakhstan stone-cut monuments is the Kyzyltam necropolis. Here, not far from the ruins of the late medieval Kyzyltam mausoleum, well-known in literature, there are several dozen stone fences with kulpytas, among which there are also original samples.
On the neighboring hills and slopes scattered dozens of grave monuments in the form of stone fences with kulpytas.
Geographic coordinates of the Kyzyltam necropolis: N50 ° 38'17.70 "E57 ° 46'17.92"
Authority:
M.M. Nurpeisov based on materials from scientific and periodicals, research by Kazakh scientists S.E. Azhigali, Z.S. Samasheva, J.E. Smailova, O. Zh. Oshanova and others.
Photos from the site:
https://izbasar.kz/ru/a-t-be-oblysyny-kartasy/#w2gm-listing-2088