Kenderli Bay.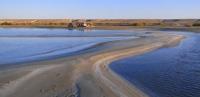 Where to rest on Mangystau.
"Travel reveals not so much our curiosity about what we are going to watch, as the weariness of leaving"
Karl Alphonse.
Sights on map of Mangystau.
The Kenderli Bay is located in the southeastern part of the Caspian Sea (the Kazakh part), fenced off by a narrow strip of the Ada Spit (Kendyrli Spit) from the Kazakh Bay to the east in the Karakiya District in the southwestern part of the Mangistau Region.
The bay stretches from the south-east to the north-west for 22.7 kilometers, the greatest width of the Kenderli bay from the west from the Ada spit to the eastern coast is 11.1 kilometers. The bay is shallow, the depth of the coastal part of the bay does not exceed 1 meter.
The eastern shore of Kenderli Bay is very warm, even in October the water here is very warm, which creates good conditions for recreation. Residents of Mangistau and guests from other regions of Kazakhstan appreciate the warm water and sandy beaches of local resorts. Kenderli Bay is called azure.
The warm current, clean sandy beach, long summer with clear dry weather, creates good conditions for a full, comfortable rest.
Geographic coordinates of Kenderli Bay: N42 ° 41'11.92 E52 ° 41'12.44 "
Authority and photos
Alexander Petrov.