Karmen Kuus valley.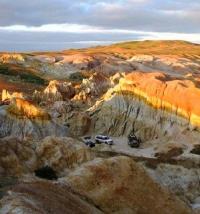 Central Asia and Kazakhstan Altai mountains tours. 
"Nature encourages no looseness, pardons no errors"
Ralph Waldo Emerson.
Almaty & Kazakhstan Altai trip. 
East of the Sibinsk Lakes, about 20 kilometres south of Ognyovka, downstream of the small Asubulak River and above the village of the same name, lies a sensational "open- air museum" of geological and mineral wealth, an El Dorado for stone and mineral lovers.
A large deposit of precious stones lies in this easily accessible and picturesque spot in the middle of clusters of juniper and pines bent by the wind. Kazakhs call this place Karmen Kuus (Snow Camp).
Granite and porphyritic rock, formed 280 million years ago, triggered the eruption of a new mass of granite some 250 million years ago. This mass is seamed with mineral veins; experts have identified more than 100 different materials including feldspar, rose quartz, rock crystal, aquamarine, tourmaline, apatite, garnet and other precious stones, especially in the southern part of the 400-hectare site, where the soil has been broken up by tectonic movements and big lumps are scattered all over the place.
Collectors can forage to their heart's content here—so far, no one has thought of forbidding people from taking samples. Some minerals contain traces of tin, tantalum and niobium; this area was mined as early as the Bronze Age - bronze arrowheads and fishhooks have been found nearby.
The discovery of bones belonging to mammoth, woolly rhinoceros and giant deer also shows that this region was populated by the largest ancient mammals 30,000 ago, when the climate was milder and vegetation more abundant.
Authority:
The guidebook across Kazakhstan. Authors Dagmar Schreiber and Jeremy Tredinnick. Publishing house "Odyssey".2010. 
Photos
Alexander Petrov.