Ismail Samani square.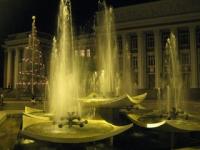 Excursions on the squares of Khudjand.
On square Ismail Samani in the town of Khudjand was will erect a magnificent monument lived in IX - X centuries to emir of dynasty Samanids Ismail Samani as to a symbol of statehood of nice ancestors of Tadjik people, carries name Ismail Samani.
 Today this area where there is a park and the cascade fountain, and also a swimming pool is constructed, give to her special magnificence and shine, is favourite vacation spot of the townspeople and visitors of city.
The central area of the city of Khudjand, constructed by 20-years anniversary of city, after an establishment on her of a scale monumental complex of memory Ismail Samani and construction of a palace of sports, is an original ornament of an architectural panorama of city of Khudjand.
Authorship:
The Tourist guidebook on monuments of Khudjand. 2012.